Indianapolis — Not even a slight brush with the wall could spoil John Andretti's sudden turn of good luck.
Fired by Petty Enterprises in June, Andretti drove two races for Haas CNC Racing and finally landed a ride with Dale Earnhardt Inc. for the Brickyard 400.
Friday, Andretti was the fastest among 52 drivers, turning a top lap of 182.708 mph during the first day of practice for Sunday's race at Indianapolis Motor Speedway, his hometown track.
"We actually didn't mess with the car much," he said. "I tried to draw on my experience to figure where we'd be."
His top speed came on his second of just eight laps of practice. After that, he "tried maybe a little too hard" and brushed the wall in the second turn, but not hard enough to damage either his Chevrolet or his confidence.
Qualifying for the top 36 spots will be today. Another seven cars will be added as provisional starters, based on Winston Cup owner points.
"I feel like I've got a great opportunity here," Andretti said. "I'm not going to put any pressure on me that's going to make it more difficult. A lot of things have been going on. I think I've landed on my feet pretty well."
There's no assurance of lengthy employment with DEI, he said, but "if I sit on the pole and win the Brickyard 400, I guarantee it'll be more than a race-to-race deal."
Jimmie Johnson was second-fastest at 182.645, followed by Joe Nemechek at 181.389, Dave Blaney at 181.148, Michael Waltrip at 181.105, Kevin Harvick at 181.068 and series point leader Matt Kenseth at 181.036.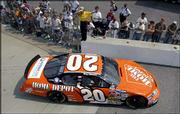 Time will tell: Rusty Wallace figures it's only a matter of time before he snaps out of the worst slump of his NASCAR career.
A top-10 finisher a record eight times at the Indianapolis Motor Speedway, including a record three times as runner-up, Wallace is the Brickyard 400's most successful non-winner. But he has not won a race at any track in more than two years, a span of 82 consecutive starts.
"I'm possessed and determined to get this win out of the way," Wallace said Friday. "I look at the stats and things people say, and it just makes me drive harder."
Wallace was second to Dale Earnhardt in the 1995 Brickyard, second to Bobby Labonte in 2000 and second to Bill Elliott last year. His best finish this year was third at California, and he led 23 laps last week at Pocono Raceway but wound up 11th.
"I'm getting real tired of saying, 'That's racing.' I want to get the job done," Wallace said. "I can drive the hell out of the car. I've got a good car and a good sponsor, I'm at a track where I've finished second three times and I've got a good shot to win."
Five more years: Ford Motor Co. announced five-year contract extensions Friday with Robert Yates Racing, Roush Racing the Wood Brothers.
"This gives them reassurance and gives us reassurance," said Ford Racing director Dan Davis. "We've picked our dance partners."
Copyright 2017 The Associated Press. All rights reserved. This material may not be published, broadcast, rewritten or redistributed. We strive to uphold our values for every story published.