Birmingham, Ala. — "American Idol" winner Ruben Studdard has sued hip-hop clothing maker 205 Flava Inc., saying the company wrongly profited from his image after he wore its jerseys on the singing competition.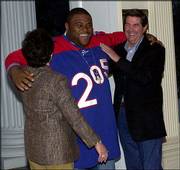 The lawsuit, filed Wednesday by Birmingham attorney Byron Perkins and New York attorneys Tom J. Ferber and David S. Levine, seeks an injunction to stop the unauthorized use of Studdard's image.
Studdard wore the oversized jerseys adorned with the number 205 -- the area code of his hometown, Birmingham -- at the beginning of the Fox reality series, but stopped wearing them and spruced up his image as the competition got tighter.
The lawsuit says the defendants have unfairly and unlawfully exploited and capitalized on Studdard's popularity.
It estimates the company has made at least $2 million in sales after exploiting Studdard's image, and that Studdard is entitled to some of the profits.
Flava founders Frederick and Willie Jenkins of Birmingham are named as defendants. Birmingham attorney LaVeeda Battle, who has done work for the company, said she was shocked and disappointed a lawsuit has been filed. She said it was untrue the brothers exploited Studdard.
Copyright 2018 The Associated Press. All rights reserved. This material may not be published, broadcast, rewritten or redistributed. We strive to uphold our values for every story published.