Hoglund Ballpark was as lively as ever, but the Kansas University baseball bats were fast asleep.
KU mustered just three hits against Wichita State Tuesday, falling 7-2 to the Shockers in front of 1,642 festive fans. It was the fifth-largest crowd in Hoglund Ballpark history, but only the boosters of the black and yellow -- roughly a third of the fans in attendance -- had anything to cheer about afterward.
Wichita State's pitching staff showed depth that Kansas coach Ritch Price can only long for these days. Despite both teams saving their top starters for weekend conference matchups, the Shockers were still able to shut down a potent Kansas offense that some of the country's top teams -- notably Louisiana State and Oklahoma State -- couldn't slow down this year.
"They play Tuesday and Wednesday home games because of their crowds," KU coach Ritch Price said. "So they literally have seven quality arms."
WSU's Steve Uhlmansiek, a red-shirt freshman, pitched six innings, giving up just one earned run and striking out five. He improved to 6-1, and his 4.85 ERA is better than that of any starter on the Jayhawk staff.
"If that guy was pitching for us," Price said, "he'd be pitching on Friday night."
The Jayhawks had just one earned run, when junior Ryan Baty snuck home from third base after Casey Spanish got in a rundown between first and second. By then, Wichita State already had a 5-2 lead, a lead too big for the slumping Kansas bats to whittle.
"We're kind of in a rut now," KU junior Ryan Baty said. "We didn't swing the bats well, but we'll pull out of it."
KU also scored in the second inning when a Logan Sorensen throwing error allowed Spanish to cross the plate.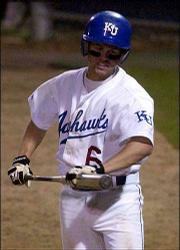 But Wichita State clubbed 13 hits, including five in the four-run fourth inning, and it was more than enough.
Kansas now will have May 7 to look forward to; that's when the two teams will meet again in Wichita.
"I'd be lying to if you I said this game is just another ballgame," said Baty, a Wichita native. "I want to come out on top of those guys every time I play them."
Kansas, after its third straight loss, dropped to 32-19. The Shockers, in a slump almost unheard of for the traditional national powerhouse, improved to 32-18, snapping a three-game losing streak of their own.
"You are how you react to adversity," WSU coach Gene Stephenson said. "I think we showed tonight that we're pretty resiliant."
The Jayhawks will have to show it now. Defending national champion Texas visits Lawrence next. The series will start at 7 p.m. Friday.
"They're tops in the conference right now," Baty said. "It's a great ballclub. We'll try to keep that same motto that we're playing the baseball, not the opponent."
Wichita State 7, Kansas 2
Wichita 001 400 002 -- 7 13 1
Kansas 010 001 000 -- 2 3 1
W-- Steve Uhlmansiek (6-1). L-- Josh Duran (3-3). Sv-- Mike Dennison (10).
KU Highlights: Ryan Baty 1-for-1, 2B, R, 2 SB (12); Matt Baty 1-for-2, Casey Spanish 0-for-2, R, SB (14)
Copyright 2018 The Lawrence Journal-World. All rights reserved. This material may not be published, broadcast, rewritten or redistributed. We strive to uphold our values for every story published.