Seabury Academy's girls soccer team kept Tuesday's game against Kansas City Barstow scoreless for 77 minutes.
In a back-and-forth contest brimming with scoring opportunities for both sides, Barstow finally got on the scoreboard in the waning minutes when forward Gina Heacker found the ball at the top of the box, snuck past a group of Seahawks and buried the ball in the left corner of the net.
"It was a breakdown on giving a player two seconds she doesn't deserve," Seabury coach Coy Weege said.
The goal gave the Knights a 1-0 victory at the Youth Sports Inc. fields.
"We couldn't get anything on target until the last few minutes," said Barstow coach Scott Huppe, whose team is 4-6. "It was frustrating to sit on the sideline."
The Barstow goal was the only blemish on the performance of Lindsey Ahlen, the Seahawks' freshman goalkeeper who constantly pounced on any possible Knight goals before the winning kick.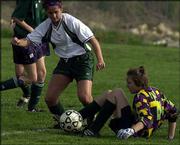 "She gave it her best effort," Weege said.
Both squads had opportunities to break the scoreless tie, but they failed to find the net for a majority of the game and were plagued by deflected balls, wide shots and thorough goaltending.
"We had a solid game. We had two or three opportunities that we should have capitalized on," Weege said. "We just have to figure out how to get shots on goal."
Senior Janie Schneider led most of the offensive attack for the Seahawks (1-4) by constantly trying to push the ball upfield.
Seabury plays again Thursday at Leavenworth Immaculata.
Copyright 2018 The Lawrence Journal-World. All rights reserved. This material may not be published, broadcast, rewritten or redistributed. We strive to uphold our values for every story published.