The federal government hopes to get about 2,500 Douglas and Jefferson county residents back to work.
The 2,500 residents are enrolled in the federal government's disability programs, which provide them with a monthly check and health insurance.
Officials with the Social Security Administration are starting a new federal program that provides people in the disability programs incentives to return to work. Those on disability in Douglas and Jefferson counties this month began receiving letters in the mail about the program, called Ticket to Work. Social Security officials Tuesday were in Lawrence discussing the program with area organizations that work with residents who have disabilities.
Barbara Lewerenz, public affairs specialist with the Social Security Administration, said Congress created the program in 1999, in part, because statistics have shown that most people who enter the government's disability programs never leave.
"Our statistics show that once you qualify for disability, there is less than a 1 percent chance that you'll ever leave the disability roles," Lewerenz said.
Lewerenz said their are many people in the program who likely can't work a regular job because of their disability. Others, though, probably could be a part of the work force if they received proper training and had an incentive to leave the disability program.
That's where the Ticket to Work program comes in. People who sign up for the voluntary program will be paired with an employment counselor who creates a plan for the person to enter the work force. Sometimes that involves arranging training for the participants, like enrolling them in a program that teaches computer skills.
Another part of the program deals with health insurance. Lewerenz said a recent Gallup Poll showed 75 percent of people with disabilities would like to have a job. But, Lewerenz said, many don't pursue employment because they're afraid if they get a job they'll lose their Medicare benefits.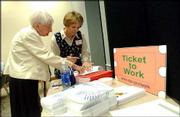 Ticket to Work addresses that concern by essentially giving anyone who signs up for the program a guarantee that they'll be able to receive their Medicare benefits for at least 8.5 years after they begin a job. But, they most likely would stop receiving a monthly check if the job paid more than $800 a month.
A related program at the state level called Working Healthy makes it easier for Kansans with disabilities to keep their Medicaid programs if they go back to work.
Thus far, Kansans haven't been flocking to the programs.
There are 63,000 Kansas residents who are in a disability program. The administration has sent informational packets to 26,000 residents, but only 25 have signed up for the federal program. The state program has attracted 500.
Area residents interested in learning more about the Ticket to Work program can call (866) 968-7842 or click on www.yourtickettowork.com.
Norm White, a benefits specialist with the Kansas Department of Social and Rehabilitation Services, said many people are scared to do anything to alter their benefits.
"I think it (the low response rate) is just because it is new and there has been a long history of people fearing the loss of their benefits," White said. "They know people who have gone to work and lost their benefits. They don't yet understand this program tries to protect them from that."
Copyright 2018 The Lawrence Journal-World. All rights reserved. This material may not be published, broadcast, rewritten or redistributed. We strive to uphold our values for every story published.