For most people, the word hazelnut conjures up images of the sweet, tasty little nuts cushioned in luxurious chocolate bonbons, or used as a flavoring for ice cream, cakes and even coffee.
However, although the majority of hazelnuts are indeed used by bakers and confectioners, increasingly the crunchy kernels are stepping out from the dessert category. They are turning up for nibbles with aperitifs, as well as in salads, soups and main courses, as a recent culinary event revealed.
Of the eight semifinalists gathered in Istanbul, Turkey, for the first "Hazelnut Taste of the World" recipe contest, all but two produced dishes that were savories.
The $3,000 grand prize went to a sweet-potato rosti with candied hazelnuts, watercress and apricot-curry vinaigrette. It was created by Ivy Hung, an American student at the French Culinary Institute in New York.
A total of 550 recipes were submitted by culinary professionals and students, under the age of 35, from countries which produce or import hazelnuts. France, Greece, Italy, Japan, Switzerland, Spain, Turkey and the United States were represented.
Winning recipe
Hung's presentation for her flavorful, stylish dish featured half-moon wedges of the rosti (Swiss-style sauteed potato cakes) standing upright on their cut sides with sprigs of dark green watercress encircling the plate; the vinaigrette is made with reduced apricot nectar and fresh apricots, sherry vinegar and warm spices.
The dish combined an Asian design aesthetic and a contemporary melding of flavors and ingredients; the sweet potatoes and candied hazelnuts played brilliantly against tangy apricots, and vinegar fragrant with cumin, coriander, cinnamon and cardamom.
"The hazelnut has a strong, unmistakable presence in sweet and savory dishes," Hung said, talking about her use of the nuts. "It can crash with and overpower the main ingredient if the teaming is not done right.
"A lot of chefs play it safe by working with hazelnuts in a timid way, either using hazelnut flour in the sauce or crushed in the crust of meat or seafood dishes. While they add a unique twist, I believe in fully embracing an ingredient's character, so I played bold, aromatic fragrances and textures against the nuts."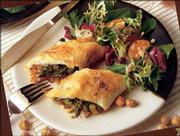 Most contestants' dishes were variations on classic themes. The French chef's delicate-boned squab "picada" were stuffed with bread, hazelnuts, saffron, cocoa, parsley and garlic, then wrapped in caul fat and roasted.
A succulent rolled loin of lamb, with a mosaic of different stuffings and dusted with hazelnut powder, was offered by Switzerland. The Spanish created angler fish "nogada," sauteed fillets with a traditional nut-based sauce garnished with whole roasted garlic cloves.
The Greeks prepared hazelnut pasta with white cheese, garlic and sage, and the Italian chef served crepes with hazelnuts and onions. Both desserts, from Turkey and Japan, were flamboyant but predictable with their flavors of chocolate, caramel, buttercream and nuts.
Across America, hazelnuts' popularity is rising, especially among chefs and for food service.
Here are some interesting facts about hazelnuts:¢ Hazelnuts can be substituted for virtually any other nut specified in a recipe.¢ Roasting hazelnuts increases their flavor and improves their crunchy texture.¢ Hazelnuts are available "natural" (shelled and unroasted) or roasted.¢ Professionals say cleaned "natural" nuts are a great time saver and definitely worth the money. After that, it is easy to roast them.¢ To roast natural hazelnuts, spread whole kernels in a single layer on a baking sheet and bake at 275 degrees for 15 to 20 minutes. To remove skins, briskly rub with a rough cloth while nuts are still warm.¢ Store hazelnuts in a tightly sealed container in the refrigerator or freezer to maintain the highest quality of flavor and texture. Allow hazelnuts to warm to room temperature in unopened containers before using to prevent mold and rancidity.¢ Refrigerated hazelnuts can be kept for up to one year; frozen hazelnuts can be kept for up to two years.
One reason is their versatility. Hazelnuts also go well with cheese, shellfish and citrus flavors. Sarah Stegner, executive chef of the Ritz-Carlton's Dining Room in Chicago, prepares a Roquefort cheese terrine filled with mission figs rolled in candied hazelnuts.
Another recipe she serves, a strudel of asparagus, Gruyere cheese, balsamic glazed onions and hazelnuts wrapped in phyllo, was a prize-winner in an American Hazelnut Council recipe contest similar to the one in Turkey.
Martial Noguier, the executive chef of one sixtyblue in Chicago, uses the nuts in both sweet and savory dishes, among them salmon with a quenelle of mushrooms drizzled with hazelnut oil, and mahi-mahi crusted with hazelnuts.
"I use a lot of wild mushrooms," Noguier says, "and hazelnuts' clean, deep taste reminds me of the forests, so there's a natural affinity." He drizzles the oil as a final condiment on purees and soups, too.
Encouraging home cooks to copy favorite restaurant dishes with hazelnuts or create their own hasn't been easy.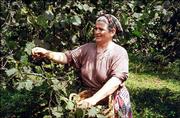 Cory Schreiber, the chef-owner of Wildwood Restaurant in Portland, Ore., says he thinks hazelnuts are "under the radar screen because they haven't hit the health line. They don't promise any 'cardio' benefits. Nor are they mass marketed in specialty forms such as salted, smoked or candied."
Schreiber also mentions hazelnuts' clean taste "that goes particularly well with the Oregon blue cheese in my warm quail salad with apples. As for the oil, I use it in small doses as a direct hit on the plate and usually blend it with a neutral oil like grapeseed."
Greg Higgins, Schreiber's neighbor at his eponymous restaurant Higgins, says he uses "tons of hazelnuts each year."
More specifically, "Along with honey- and chili-spiced hazelnut bar snacks, we feature them on our house salad and in vinaigrettes, in terrines, pastries, pesto and mole sauce, plus I mulch my garden paths with the shells, which retard weed growth. They are certified organic hazelnuts grown here in the Willamette Valley."
Of all the hazelnuts consumed in America, 99 percent grow on tall trees in that Oregon valley. Once a year, around mid-September, tens of thousands of ripe nuts fall to the ground where they are mechanically vacuumed up and transported to processing plants.
With supplies vastly outweighing local demands, 95 percent of the crop, roughly 5 percent of the world market, is exported.
Conversely, Turkey produces more than 70 percent of the world market.
Although Turkey exports about the same percentage as Oregon, the Turkish hold the nuts in much higher esteem than Americans, using them in every form from whole to finely ground flour, including those just picked and eaten green.
Until recently, hazelnuts were fairly hard to find in the average supermarkets, sometimes expensive and-or of inferior quality. People also thought of the nuts as difficult to use.
Now, with blanched nuts more readily available and prices a little lower, it may be time for hazelnuts to come into their own.
Copyright 2018 The Associated Press. All rights reserved. This material may not be published, broadcast, rewritten or redistributed. We strive to uphold our values for every story published.