MODESTO, CALIF. — Scott Peterson was arrested Friday in the death of his wife, Laci, who was eight months pregnant when she vanished on Christmas Eve. The arrest came as authorities confirmed that two bodies that washed ashore this week were those of Laci and her baby.
Prosecutors said they planned to charge Peterson with double homicide for the deaths of Laci and the infant son. "He'll be charged with capital murder," with the option of seeking the death penalty, said Stanislaus County Dist. Atty. Jim Brazelton. "There are no other suspects in this case."
The arrests came nearly a week after the badly decomposed bodies of Laci Peterson and her son were found within a mile of each other -- about three miles from where Scott Peterson said he went fishing the day his wife disappeared.
A spokeswoman for Laci Peterson's family said relatives were devastated by the confirmation of the deaths, but grateful they finally had an answer after months of uncertainty.
"Families in their circumstances will always tell you the worst thing is not knowing," said spokeswoman Kim Petersen, executive director of the Carole Sund-Carrington Memorial Reward Foundation. "I don't know if relief is the right word. ... The waiting this week has been horrific for them."
Peterson, 30, was arrested before noon Friday by plainclothes police in San Diego. Hours later, authorities identified the bodies through a comparison with DNA samples from Scott Peterson and Laci Peterson's parents.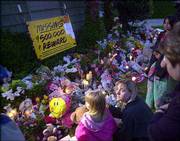 The arrest was made before the results of DNA tests were known because Peterson was considered a flight risk, and had indicated that he had discovered he was under police surveillance, California Atty. Gen. Bill Lockyer said.
Peterson was being driven Friday night to the Stanislaus County Jail in Northern California for a court appearance next week.
His attorney, Kirk McAllister, could not be reached Friday for comment.
Peterson's moves and statements have been closely scrutinized since his wife's disappearance, and he admitted having an affair with a massage therapist while his wife was pregnant with the couple's baby.
Copyright 2018 The Associated Press. All rights reserved. This material may not be published, broadcast, rewritten or redistributed. We strive to uphold our values for every story published.