In the past 20 years, Leadership Lawrence has built itself quite a resume.
Take, for example, more than 350 alumni, a cutting-edge curriculum and program graduates -- like Mayor Sue Hack -- who have gone on to devote hours to the community.
"There's probably not a nonprofit board in this community that does not have a Leadership Lawrence graduate," said Karen Christilles, who completed the chamber of commerce program in 2000 and now serves as its curriculum chairwoman.
But one goal continues to be pursued: diversity.
Small-business owners and minorities too often miss out on this program that teaches individuals how to get involved, said Jon King, chairman of the programs advisory board of directors.
"There are barriers," said King, pointing to the $600 participation fee and individuals who didn't have the time or backup staff to take a day off from work to attend programs.
But both he and executive director Nancy Longhurst said if it could be managed, the program was well worth it.
Established in 1982, Leadership Lawrence teaches individuals how to fine tune their skills through sessions with area leaders and lessons on leadership methods.
Near the end of the program, the participants help facilitate a variety of projects around Lawrence and Douglas County.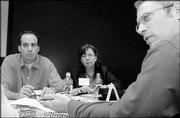 "That's one of the things about leadership -- you've got to practice," Longhurst said.
In recent years the program has admitted about two dozen of the more than 50 people who apply. (Applications are usually due the first week of August.)
And then from October through April participants meet monthly to focus on such topics as education; arts, culture and diversity; health and human services; local government; and area businesses.
The idea was that people would know how to personally invest in the community by the end of the program, said Longhurst, be it as a school board member or a Little League coach.
"We want them to do things in the community and do them really well," she said, adding that leadership is a learned skill -- not an instinct.
"I think for so long people thought you just did it," she said.
Leadership Lawrence, one of about 30 similar programs in the state, has received positive reviews.
"I really cannot say enough about the program," Christilles said. "It just makes you so proud to be a part of this community."
And the number of graduates like her, who have stayed involved in Leadership Lawrence, was testament to its success.
Now the only question remains getting those under-represented groups involved.
"We need to go to them," Longhurst said. "I don't think we've done that."
And when they get to those people, King plans to show them that they can make a difference.
"That's the pitch," he said.
Copyright 2018 The Lawrence Journal-World. All rights reserved. This material may not be published, broadcast, rewritten or redistributed. We strive to uphold our values for every story published.