Recent rains in the Lawrence area haven't erased the lingering drought, and long-range weather forecasts give little reason to be optimistic that it will be over anytime soon, farmers and meteorologists say.
"We haven't really had a lot of rain here," said Mark Wulfkuhle, who operates a crop and cattle farm in western Douglas County. "We're still very short of rain."
The driest areas of the state can be found in northeast Kansas primarily north of Interstate 70 and then extending around into western Kansas, said Don Rogers, meteorologist with the National Weather Service in Topeka.
Southeast and southcentral Kansas have fared better, Rogers said.
"The area from Emporia to Hutchinson has seen more rain, but it's all short-term relief," Rogers said. "Most of the precipitation is still too light to break the drought."
The National Oceanic and Atmospheric Administration's Palmer Drought Severity Index indicates the drought is mostly over in Kansas. Statewide precipitation averages now show Kansas at 95 percent of normal for the year, compared with statewide averages of 61 percent at the same time last year.
"It looks better than it did last year," state climatologist Mary Knapp said. "The problem that is hidden, particularly by the drought monitor picture, is there is such a big area tipping on the borderline of being too dry."
Since Jan. 1 in Topeka, only 3.12 inches of precipitation has been recorded, Rogers said. That is more than 2 inches below normal, he said. In March, 1.5 inches of precipitation were recorded in Lawrence, Rogers said. So far in April, the measurement has been .41 inches. Additional records weren't readily available for Lawrence.
Rogers also said he didn't see anything in long-range forecasts that would end the drought.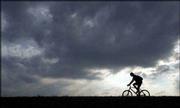 "I haven't seen anything that would point in that direction," Rogers said. "Everything is still slightly below normal."
That comes as no surprise to Wulfkuhle. He is concerned about his winter wheat crop.
"It's greening up pretty good, but it's going to need a lot more rain," Wulfkuhle said of the wheat.
Wulfkuhle has seen ponds and a wells dry up. Already he has been hauling water to some of his cattle, and he said he expected to have to continue to do so for some time.
One cow needs about 30 gallons of water a day, Wulfuhle said. At a cost of $5 per thousand gallons of water for up to 1,000 head of cattle, Wulfkuhle is faced with an expensive problem.
An agronomist recently checked the subsoil on Wulfkuhle's crop land and found the moisture level reached only 1.5 feet deep.
"In July and August, the (plant's) roots usually go down 2- to 3-feet-deep to get their moisture," Wulfkuhle said.
Copyright 2018 The Lawrence Journal-World. All rights reserved. This material may not be published, broadcast, rewritten or redistributed. We strive to uphold our values for every story published.