It wasn't just a changing of the guard. It was a changing of how the guarding will be done.
Members of Lawrence's new "smart-growth" supermajority on the Lawrence City Commission took office Tuesday, replacing commissioners who had been seen as friendlier to development interests.
Commissioners Dennis "Boog" Highberger and David Schauner join re-elected Commissioner Mike Rundle and new Mayor David Dunfield on a commission that promises an in-depth re-examination of how the city is growing.
"We need to look at the larger issues, the planning issues," Dunfield said before Tuesday's City Commission meeting. "We should start really getting serious about trying to define the future form that Lawrence is going to take over the next many years."
Highberger and Schauner replaced outgoing Commissioners Jim Henry and Marty Kennedy, who had served four and six years, respectively. Their departure leaves Commissioner Sue Hack, who stepped down as mayor Tuesday, as the lone member of the commission not allied with the smart-growth Progressive Lawrence Campaign.
Hack sounded a note of truce Tuesday, welcoming her new colleagues to the commission.
"We're so fortunate to have you enter this arena," she said.
The new commissioners promised not to use their new majority to run roughshod over the opposition.
"I can assure you of one thing," Schauner said. "I will listen to everyone's opinion. I will give everyone equal time. I will do my best to represent all of Lawrence."
Rundle agreed.
"I believe we can become one of those communities that others look to," he said. "It will take collaboration from every part of the community."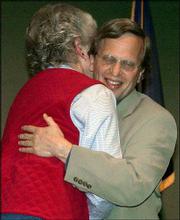 There will be parts of the community that will resist some of the items on the new commission's agenda: a revisiting of floodplain regulations, tax-abatement policy and a living-wage ordinance.
Dunfield also will make two appointments to the Lawrence-Douglas County Planning Commission soon, and his decisions are expected to alter the balance of power on that body.
"I'm starting to look at names," he said Tuesday. "No decisions yet."
The new commission also will have to deal with the gritty details of day-to-day governing. The city is still in a hole after the state cut $1.38 million of expected aid to Lawrence this year.
"That's kind of a pragmatic and short-term issue," Dunfield said. "But it's certainly the one that's most pressing on the community at the moment."
But the new commissioners said they were glad to be done with campaigning and ready to get to work.
"I've talked way too much the last three months," Highberger said. "Now's my time to listen."
Copyright 2018 The Lawrence Journal-World. All rights reserved. This material may not be published, broadcast, rewritten or redistributed. We strive to uphold our values for every story published.