Dr. James Otten is a rarity in these parts.
Otten, who has a restorative dental practice in Lawrence, is a Kansas Cajun, a Sunflower State resident who's almost always in a "Big Easy" frame of mind.
He's ready at a moment's notice to saute some crawfish or blacken a thick slice of Ahi tuna.
Otten even has a turducken -- a Cajun delicacy -- stored in his freezer.
For those who aren't familiar with this dish of Louisiana origin, it's a lavish meal consisting of a boneless turkey, stuffed with a boneless duck, stuffed with a boneless chicken. Ideally, each bird will feature its own stuffing.
Otten and his wife, Vickie, order turduckens from Herbert's Custom Meats in Maurice, La.
How did Otten, a resident of Lawrence for 19 years, become so infatuated with Cajun and Creole cooking?
"Every year for 20 years we've attended the New Orleans Jazz & Heritage Festival, and we've developed some relationships with folks down there, including Frank Brigtsen," Otten says.
Brigtsen is chef and owner of Brigtsen's Restaurant in New Orleans. He's become an informal culinary mentor for Otten, who loves to cook for family and friends.
"We just started eating at his restaurant 15 years ago. Now we have a standing reservation there during the Jazz & Heritage Festival. I call him anytime I have a question about cooking something," Otten says.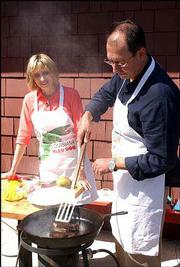 Everything's on the menu
At the end of this month, the Ottens plan to -- once again -- attend the music festival in New Orleans and do some serious eating.
"We'll have anything from an oyster or soft-shelled crab poorboy sandwich to foi gras with roast duck, and everything in between. We'll have collard greens, pork chops and crawfish beignets (a kind of fritter)," Otten says.
On the trail of good cooking, the couple will go everywhere from down-home dives to upscale, contemporary restaurants that feature dishes such as rabbit tenderloin with tasso (ham) and shrimp fettucini.
"We'll eat almost anything. Here's a good one from Frank's place," says Otten, paging through a cookbook with recipes from New Orleans restaurants, "Pan-roasted snapper with crab meat, roasted garlic and sun-dried tomato butter."
Why has New Orleans cuisine so captured his imagination?
"It has so many different characteristics to it. There's a fundamental Creole underpinning, then the cooking lends itself to a lot of European or Asian influences," he says. "Most of the things I make at home are variations on meals we've had before, playing around with crawfish and sauteing them."
Otten also enjoys blackening fish, such as tuna or halibut, on a 60,000-BTU grill outdoors.
The technique of blackening -- in which spice-encrusted foods are seared at white-hot temperature -- was pioneered by Prudhomme, who popularized Creole cuisine in the 1970s and 1980s. Prudhomme grew famous from his exploits at Commander's Palace and K-Paul's Louisiana Kitchen, two landmark New Orleans restaurants.
It's difficult for Otten to choose just one favorite Cajun or Creole dish.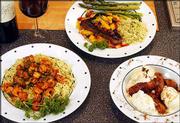 "If I have to pick one thing, I'd say a roast duck with pecan gravy. I love duck, and the way it's prepared in the Creole tradition is really good," he says.
Lure of the kitchen runs strong
Though Otten loves spicy, New Orleans cooking, it's not part of his heritage.
He's actually half German, half Italian -- emphasis on the Italian side, at least when it comes to cooking.
"My Italian grandfather, John Crocini, was a professional chef. He had his own restaurant on Long Island, N.Y., the Roosevelt Diner. He was always very particular about how everything was done. You'd get backhanded if you cut your pasta with a knife -- you're supposed to twirl it with a fork. He was pretty firm in his opinions," Otten says.
The lure of the kitchen runs strong in his family.
Otten's brother was a food and beverage director for Doubletree Hotels in Houston. And Otten's cousin is the manager at Postrio, Wolfgang Puck's restaurant in Las Vegas.
"But my mother is the cook in the family. I learned from her and my grandfather. My grandmother is an excellent cook as well," Otten says. "As a kid, some of the best times we had were gathered around the table. The meals were an extended celebration. And with the Italians, if there were 10 people, there were 20 different conversations going on. It was hysterical."
Otten, like his relatives, takes great pride in his culinary skills.
"The best compliment I ever had in cooking was when I made some fish for my grandfather and the family, about two years before he died. He looked up at me and, with his Italian accent, said, 'This is excellent. You can cook the fish for me anytime.'"
Copyright 2018 The Lawrence Journal-World. All rights reserved. This material may not be published, broadcast, rewritten or redistributed. We strive to uphold our values for every story published.