Washington — More than 200 lawsuits that claim a link between childhood vaccines and autism would be forced out of court under legislation set for action in the Senate.
Instead, claimants would have to seek compensation through a special federal fund established to consider vaccine injury claims.
Backers of the bill, including Senate Majority Leader Bill Frist, say these cases always had been supposed to go to the Vaccine Injury Compensation Program, but a loophole allowed families to skirt the system and press their claims in court.
The issue became contentious late last year, when Republicans quietly slipped the change at the last minute into homeland security legislation. Under pressure, lawmakers undid the move in subsequent legislation but vowed to try again using standard procedures.
The measure is to be considered today by the Senate Health, Education, Labor and Pensions Committee. Democrats led by Sen. Christopher Dodd, D-Conn., tried to reach an agreement with Frist, R-Tenn., but had not found agreement late Tuesday.
Childhood vaccines are safe for almost all children who receive them, but a small number are injured each year. Under current law, injured families must file claims first with the compensation fund, where cases are independently evaluated, before going to court. Average awards are just under $1 million.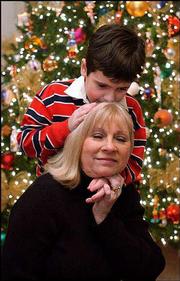 If someone's claim is denied, or if the monetary award is considered unsatisfactory, a lawsuit can be filed in federal or state courts.
Some families have found a way to skip the compensation fund and go directly to court by claiming their children are harmed by a vaccine's ingredients, rather than by the vaccine itself.
Specifically, many contend their children's autism is caused by a preservative called thimerosal, which contains mercury and once was used in the measles-mumps-rubella vaccine.
The Institute of Medicine, which gives expert advice to Congress, reviewed the issue and in 2001 said it found no proof that autism is caused by the MMR vaccine or by thimerosal. The report did say a link between thimerosal and an increased risk of neurodevelopmental disorders was medically plausible.
In any case, Frist, a physician, argues that these cases should have gone through the compensation fund first, like other vaccine-related claims. He blames trial lawyers for exploiting a loophole in the law and says his bill would help stem "out-of-control lawsuits."
Bobbie Livi, of Lawrence, Kan., noted that Frist has tried to get a similar bill passed before and has had to withdraw it because of strong opposition from families of autistic children. Livi's son suffers from mercury poisoning, and she currently has a lawsuit pending.
"I think it's a terrible commentary on our democracy and the Constitution that these children are being separated and denied their rights when we have soldiers dying for those rights in Iraq," Livi said.
Copyright 2018 The Associated Press. All rights reserved. This material may not be published, broadcast, rewritten or redistributed. We strive to uphold our values for every story published.