While many Americans are glued to news reports from the war with Iraq, Tosha Jansen-Conkey can't bear to look.
Daniel Jansen-Conkey, her U.S. Marine husband of three months, is there.
"People tell me about it -- much more than I want to know," said Tosha, an Ottawa senior at Kansas University. "I listen to CDs and pick up The New York Times once or twice a week just so I'm not completely out of touch."
As the climactic battle for Baghdad neared, relatives of Lawrence-area soldiers serving in harm's way were anxiously waiting -- and most were watching.
Joe Thibodeau said he was spending as much time as he could watching cable news networks for a glimpse of his son, Staff Sgt. Jon-Marc Thibodeau, who is with the 101st Airborne Division.
"I think he's somewhere around Najaf," said Thibodeau, of Lawrence, referring to a central Iraqi town where the 101st has seen combat.
Ivan and Kathy Frye are trying to keep track of their two Marine sons in the Persian Gulf, too. One of them, Terran Frye, 20, called his wife late last week and said he was about 100 miles from Baghdad. Justin Frye, 20, is on a ship somewhere in the Gulf. The two are stepbrothers.
The Perry couple also was glued to television news of the war.
"We try to stay on top of what is going on," Ivan Frye said.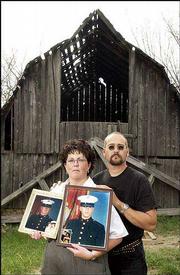 The Fryes have received letters and phone calls from Terran and Justin. Their spirits are good, the Fryes said.
Terran Frye had seen combat around Nasiriya in central Iraq, his parents said.
"He's been shot at, and he knows he's shot someone," Kathy Frye said.
Joe Thibodeau and his wife, Sharon, haven't heard from their son for several days. But they said the last letter Jon-Marc Thibodeau sent home showed no signs of nervousness.
"I think he was probably putting up a front," Joe Thibodeau said. "They weren't being told much. He said, 'You guys probably know more about what's going on than I do.'"
Tosha Jansen-Conkey, though, said she didn't want to know too much. She said she did not like to hear around-the-clock news reports of the latest casualties, battles and prisoners of war.
Tosha and Daniel Jansen-Conkey were married Jan. 6. He had been at Camp Lejeune, N.C., before being shipped to the Gulf.
And with two sons in a theater of war, the Fryes find it hard to see or hear about antiwar protesters at home. While acknowledging their right to protest, Kathy Frye said she thought the protesters should be offering to help the wives and children of those who are fighting cope with financial and other problems.
"They should put the blame for war on Saddam Hussein and (Osama) bin Laden, not our president," Kathy Frye said.
Copyright 2018 The Lawrence Journal-World. All rights reserved. This material may not be published, broadcast, rewritten or redistributed. We strive to uphold our values for every story published.