KANSAS CITY, KAN. — Imagine the Kansas City metro area as the face of a clock.
At 12 is Kansas City International Airport. Downtown Kansas City, Mo., is at three; six o'clock is Johnson County and the Kansas suburbs of Olathe and Overland Park. Last, and for the past several decades, least, would be Wyandotte County at nine.
As developer Hugh Zimmer reads the clock, the development of Kansas Speedway means now it's finally Wyandotte County's time, after five decades of decay.
"I knew that the speedway would be a draw. The question in my mind was, would that overcome the historic negatives?" said Zimmer, chairman and chief executive of the Zimmer Management Co., which is overseeing the Village West tourism district development.
The odds were long. He said after the flood of 1951, the industrial climate of Wyandotte County all but dried up. Age-old political problems and the opening of Interstate 35 in Johnson County pulled people and business away from the county.
More than 100,000 fans are expected to converge on Kansas Speedway today and Sunday as NASCAR's Busch and Winston Cup drivers take to the 1 1/2-mile track. What fans who visited last year will see in 2002 are the signs that Wyandotte County is on the move.
Village West, the adjacent 400-acre retail development, is booming. In August, Cabela's outfitters opened just east of the speedway, while across the street workers are building Nebraska Furniture Mart's new 580,000-square-foot showroom, set to open in 2003.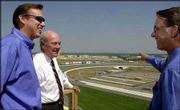 Catalyst to progress
In just their second seasons, Kansas and a similar speedway in Joliet, Ill., have become a vital part of their local communities. While Chicagoland has become another jewel in Joliet's remarkable economic renaissance, officials say Kansas Speedway is becoming the catalyst to revive Wyandotte County's economic future.
Zimmer credits Kansas City Mayor Carol Marinovich for the determination to get voters in 1997 to unify local government and build for the future.
Bill Crandall, vice president for Zimmer Management, said Marinovich improved the tax climate.
"She ran on a platform that this was a different type of community," Crandall said, and the attitudes began to change. "The idea that we can do it."
Marinovich said there was a bigger picture to bringing racing to Kansas.
"When we went for the speedway, we weren't simply going for the speedway, which we knew would be a very positive addition to our community and something that we would be very, very proud of," Marinovich said. "But the speedway would be the spark to ignite and generate development next to it."
Economic effects
According to an economic impact survey commissioned by the track last year, Kansas Speedway generated about $150 million for the metro economy in its inaugural season.
"We were hoping for this kind of growth but had no idea it would come so quickly," speedway president Jeff Boerger said. "Development of this kind usually takes years. With this project, it was amazing how quickly businesses signed on."
Boerger said speedway officials recognized that there was a spirit of partnership at all levels of government. That led to selecting a site where the speedway and tourism district could be developed.
Legislators approved bonds for the project. Those bonds are to be repaid using sale tax revenue generated on the properties.
Officials place the investment in the project at more than $380 million, with projected annual sales of more than $440 million. That translates to 3,300 new jobs in a county that has traditionally had the state's highest unemployment rate.
It's estimated that the district will return $10 million in property taxes and $26 million in sales tax to the local economy during the next four years, with about $3.5 million going to public education.
Guided growth
City leaders have guided the growth near the speedway by retaining ownership of the 400-acre tourism district, trying to make sure the right projects get built.
Among other major components will be the opening in 2003 of The Great Wolf Lodge, a hotel and indoor water park, and the Red Development, which will include retail shopping.
Racing and retail are not the only new arrivals to western Wyandotte County. This summer, the owners of the Duluth-Superior Dukes of baseball's Northern League announced the team would be moving to Kansas City from Minnesota.
The team yet to be named plays in the independent Northern League. The owners are building a $15 million, 4,500-seat stadium on property in Village West.
Lt. Gov. Gary Sherrer, who also serves as state director of commerce and housing, said the speedway and tourism district were important to the entire region.
"I smile every time I drive by all of this because I remember when we started years ago, there wasn't quite the enthusiasm for it that there is today," Sheerer said. "We have worked very hard the last few years to build the quality, the variety of tourist attractions that we have.
"It does make a difference when tourists don't just go through our state, but they stop and they enjoy it," Sherrer said.
Copyright 2018 The Associated Press. All rights reserved. This material may not be published, broadcast, rewritten or redistributed. We strive to uphold our values for every story published.