It's a beautiful faith a rich blend of icons, incense and mysticism.
And now it has a formal home in Lawrence.
Father John Mack, an ordained Orthodox Christian priest, and a community of Orthodox Christians living in Lawrence have officially founded a congregation of their own, St. Sophia Orthodox Church.
The new church is the only Orthodox Christian congregation in the city.
The church will draw upon foreign students at Kansas University and immigrant families from traditionally Orthodox Christian countries such as Bulgaria, Russia, Greece, Ukraine, Cyprus and nations in the Middle East.
The largest number of these ethnic families are from Bulgaria, so St. Sophia has been established as a Bulgarian Orthodox parish.
Its members will follow the traditions of that branch of the Orthodox faith, but the church will serve Orthodox Christians of all backgrounds.
The congregation does not have its own Orthodox temple yet, so Sunday worship services are in St. Anselm's Chapel at Canterbury House, 1116 La.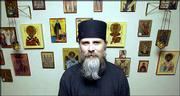 Members of St. Sophia gather at 10:15 a.m. Sunday in the chapel for the divine liturgy, known in the West as the Mass.
The church's first official worship services were Sept. 15, and about 40 people attended.
Mack and the founding members of St. Sophia established the church because of a growing need for an Orthodox Christian congregation in Lawrence.
Now they won't have to drive to Sts. Peter and Paul Orthodox Church in Topeka or Orthodox churches in the Kansas City area to have their spiritual needs fulfilled.
"Ultimately, the reason for it is because there are people here who need it. Babies need to be baptized, people's confessions need to be heard and people need to commune with God in the tradition they are familiar with," said Mack, 38.
"We'd like to show people of all faith traditions in Lawrence what Orthodox Christianity looks like. There is this authentic part of human history that most people know very little about."
Mack served as the priest at Sts. Peter and Paul Church from 1995 to June 2001, when he, his wife and four children moved to Lawrence. Priests in the Eastern Orthodox Church are permitted to marry and have children.
He now serves as the religious adviser of KU's St. Laurence Orthodox Christian Fellowship, a small group of students who gather for prayer and meetings in a modest residence called St. Rafael House, located at 1421 W. 19th St.
To that responsibility, Mack will add the role of leading the congregation of St. Sophia.
Maia Kipp, a longtime professor in KU's Department of Slavic Languages & Literatures, is a member of St. Sophia. She's thrilled to have an Orthodox Christian church in Lawrence.
"It's very important to me. I have quite a few (Orthodox Christian) friends in town who can come to the services, and we can go through the process of feeling closer to God together," said Kipp, a native of Russia.
"I come out of services feeling more at peace with myself and the world, and I feel like a better person," she said.
Mack and members of St. Sophia someday hope to build their own traditional, Orthodox Christian temple with its distinct architectural style of cupolas, domes and gilded iconography.
But that's for later.
Meanwhile, Mack said, "I hope we can create a community of people who care about each other, love each other and are seeking to grow toward God in an authentic way."
Copyright 2018 The Lawrence Journal-World. All rights reserved. This material may not be published, broadcast, rewritten or redistributed. We strive to uphold our values for every story published.