The federal government is placing 100 wild horses and 30 burros up for adoption this weekend at the Douglas County 4-H Fairgrounds.
The animals have been gathered from public and leased grazing lands by the U.S. Bureau of Land Management and are offered through the BLM's adoption program.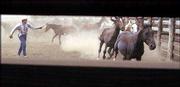 Registration and viewing is from 4 p.m. to 7 p.m. Friday and again from 8 a.m. to 10 a.m. Saturday at the fairgrounds, 2110 Harper St.
Oral bidding begins at 10 a.m. Saturday and continues until 6 p.m. The minimum bid is $125; the average adoption fee for horses is about $185, while burros adopt for an average fee of $135. Applications must be approved before individuals can compete in the bidding process. Walk-up or first-come adoptions will continue from 8 a.m. until noon Sunday.
Potential adopters must have permanent facilities for the horses and burros. No more than four animals can be adopted at a time.
Additional information is available at (866) 4MUSTANGS or log on www.wildhorseandburro.blm.gov.
A weeklong workshop detailing how to work with wild horses will be from 8 a.m. to 5 p.m. beginning today and continuing through Friday at the fairgrounds. Conducted by the BLM and Least Resistance Training Concepts Inc., the workshop offers hands-on training sessions for $150. Spectators can watch from the stands at no charge.
For advance registration information, call Janet Tilpton at (801) 554-4431 or go to www.whmentors.org/whw/whw02inf.html.
Copyright 2018 The Lawrence Journal-World. All rights reserved. This material may not be published, broadcast, rewritten or redistributed. We strive to uphold our values for every story published.