GOODLAND — Crowds gathered in western Kansas during the weekend to see the towering sculpture of a Kansa Indian that soon will grace the dome of the Statehouse.
Sculptor Richard Bergen is taking his "Ad Astra" statue on a cross-state tour before it is lifted by a crane to the top of the newly reinforced dome Oct. 7.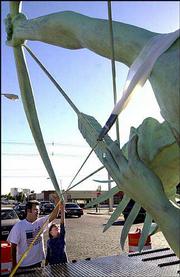 The 50-city tour began Saturday with stops in Goodland, Colby and Oakley. Residents of the communities turned out to ask questions and snap photos of the 22-foot, 5,000-pound figure that rested on its right arm on the bed of a trailer as its bow and arrow pointed high into the sky.
Bergen and his family hope the stops will help raise the remaining $100,000 to $200,000 needed for the project.
The state commissioned the statue in 1988, but the cost of the dome work and legislators' objections have stalled the project's completion.
The statue will replace a 1,000-watt light bulb that has been atop the Statehouse for decades.
Most of the project's $614,000 cost comes from putting additional steel beams inside the Capitol dome to support the statue's weight.
Critics now question whether the state should be spending the money on the dome work when it faces financial problems.
Colby resident Don Davis, 67, said he's tired of hearing about the controversies surrounding the statue.
"I think this thing's great," Davis said. "A lot of people are negative. But it's a namesake for the state. Kansa Indian that's where Kansas came from."
Bergen said he was happy, yet surprised, with the reaction from Kansans.
"I figured they'd pull in, look and walk away," he said. "They've really been interested and have spent a whole lot of time asking questions," Bergen said in Oakley.
"I'm already losing my voice."
Copyright 2018 The Associated Press. All rights reserved. This material may not be published, broadcast, rewritten or redistributed. We strive to uphold our values for every story published.