Change is unavoidable this year in the Lawrence school district.
The state's revenue shortfall will compel the Lawrence district and the 302 other public school districts in Kansas to trim budgets, as a second cut in state appropriations to schools is expected before the fiscal year ends next June.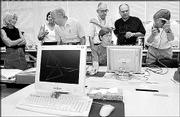 Putting the squeeze on spending will ding sacred cows in every district school from kindergarten to high school, from the library to the football field.
"The state of Kansas is not going to throw money at us," said Randy Weseman, superintendent of Lawrence schools. "There is not going to be a windfall of money coming down the pike. We need to face that reality."
In preparation of the 2002-2003 budget, the district cut $2.2 million in programs and raised student fees by $850,000 while giving teachers a 5 percent raise. The district has been forced to delve into its contingency fund to handle hundreds of thousands of dollars in state budget cuts.
Weseman said that mix of budget adjustments would be extraordinarily difficult to repeat.
"It's tougher," he said. "The political pressure will be intense."
Change also will be driven by internal forces.
"If you become a static organization ... you're going to wither and die," he said. "If you're afraid of analyzing what you've done, afraid to change, you're in the wrong place."
Lawrence school board members, home addresses, phone numbers and email addresses:Jack Davidson, 6 Colonial Court, 842-1829,
jdavidso@usd497.org
Mary Loveland, 747 North 1500 Road, 842-9333,
mlovelan@usd497.org
Scott Morgan, 1618 Inverness Dr., 842-6268,
semorgan@usd497.org
Sue Morgan, 4604 Turnberry Dr., 749-3220,
smorgan@usd497.org
Linda Robinson, 1317 Pinehurst Circle, 865-3738,
lrobinso@usd497.org
Leni Salkind, 734 Ind., 841-0947,
leni@sunflower.com
Austin Turney, 1501 Pa., 749-2243,
aturney@usd497.org
"Improving is not an option. We are going to be better. Ultimately, that's what's going to be better for our kids."
The Lawrence school board is in the middle of a comprehensive facilities study. The goal is to assess the shortcomings of each school building and determine whether renovation, construction or consolidation is best to meet needs of the district for the next 10 or 15 years.
A consulting firm, DLR Group of Overland Park, was hired by the school board to coordinate the review.
It's assumed the board will put a multimillion-dollar school bond issue before voters in April. The original goal was to have a bond vote in November, but delays in finishing the study made that unrealistic.
"Clearly, the facilities study is a priority," said Austin Turney, board member. "I think the focus is on completing the study and selecting some construction from it to go out with a bond issue in April."
It's likely the study will lead to recommendations for consolidation of elementary schools.
Budget and facilities will dominate the agenda in Lawrence schools during the next year or so.
A complicating factor is that four of seven board members are up for re-election next spring. None of the foursome Sue Morgan, Jack Davidson, Mary Loveland, Scott Morgan have announced whether they'll seek a new term.
Here are other priorities of each board member:
Scott Morgan Get a handle on student performance on standardized tests. The district must do a better job interpreting and explaining scores. Successes and shortcomings of students must be made clear to everyone.
"We need to make sure we're continuing to get the most bang for the buck," said Morgan, the board's president.
Linda Robinson The district should act earlier when children need special-education services at school. That requires replacement of the current intervention model to a prevention mode. Students in need of special-education services should be identified before they struggle through kindergarten, first grade and second grade.
"That should be a priority getting kids where they need to be before they fail."
Davidson Maintain the district's mentoring program for new teachers, despite the fact all the district's new, mentored teachers in 2001-2002 were given pink slips to cut spending. Some were rehired to fill unexpected vacancies. He also wants to improve communication between the district and community members.
"There is inadequate communication about what the board and administration wants to do and is exploring."
Leni Salkind Address veteran faculty who no longer have the passion to teach in public schools. She said the district could no longer afford to have teachers go into retirement mode on the job. School principals have be held accountable for invigorating slothful teachers or weeding them out.
"There are ways we can document individuals who are not doing the job," she said.
Loveland Raise the learning curve for all students in the district. "I think that's the key for everything we do," she said.
Sue Morgan Dialogue with community members on education issues must expand. People need to talk more about the district's strengths and weaknesses, she said. There's a temptation to gloss over inadequacies, but there's great value in open debate.
"How do we tell that score without scaring people out of public education?" asked Morgan, the board's vice president.
Turney Keep the spotlight on reducing class sizes, especially at the lower elementary grades. Continue to upgrade the curriculum.
Copyright 2018 The Lawrence Journal-World. All rights reserved. This material may not be published, broadcast, rewritten or redistributed. We strive to uphold our values for every story published.