Toksovo, Russia — Working to uncover the secrets of the collapsed Soviet Union, diggers say they have found 20 sets of bones in what they believe is a vast burial ground for thousands of victims of dictator Josef Stalin's firing squads.
So far, the volunteers from the human rights group Memorial have sent nine sets of remains to a forensic laboratory for tests of identifying features including age, sex, cause and time of death.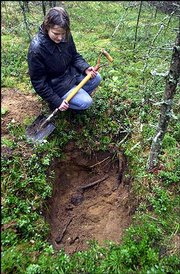 Russian officials have said they believe millions of people died from executions and brutal imprisonment under Stalin's rule. His security forces ruthlessly arrested people suspected of political disloyalty, espionage, failure to work hard enough in factories or on farms, or of not fighting hard enough against German invaders. Stalin died in 1953.
Memorial will stop digging and declare the site a monument to the victims if the Federal Security Service, the main successor to the Soviet-era KGB, breaks its silence and confirms the area is part of the suspected Stalin-era mass grave, Memorial activist Irina Flige said.
The work is grim in the forest outside Toksovo, about 20 miles northwest of St. Petersburg. With the sound of artillery shells exploding on a nearby army testing range, volunteer diggers stand waist-deep in pits, groping for bones with gloved hands.
Volunteers working with Memorial searched for five years before finding the grave, which they estimate could contain about 30,000 bodies in an area of about 500 acres. They have been digging here since August.
The only other known mass grave in the St. Petersburg area is believed to contain the remains of up to 8,500 people, according to drivers who brought the victims to the execution place in 1937-38, at the height of the Terror.
The drivers were questioned by the KGB in 1965, during a time when Soviet authorities gingerly began to admit the massive scope of Stalin's crimes.
Russian officials have said they believe millions of people died in the communist purges before Stalin's death.
Yet there was no trace of tens of thousands of other victims who were rounded up in and around Leningrad, as St. Petersburg was known in Soviet times. According to official Soviet-era data, 39,488 people from the region were executed between Aug. 5, 1937, and Nov. 16, 1938. Almost 7,000 people vanished in 1930-36.
Both the KGB and the Federal Security Service kept silent about where the victims were buried, so in the mid-1990s Memorial began publishing appeals for information in newspapers.
The group was founded during the Perestroika era to preserve the memory of the victims of political repression in the Soviet Union. It has since become one of Russia's most respected human rights groups.
Copyright 2018 The Associated Press. All rights reserved. This material may not be published, broadcast, rewritten or redistributed. We strive to uphold our values for every story published.