Topeka — Lawrence artist Jim Brothers looked to the natural surroundings at the governor's mansion and to a rural Lawrence neighbor when he designed a bronze sculpture that was dedicated Thursday at Cedar Crest.
Brothers, a sculptor who recently gained national attention for the bronze sculptures of American soldiers at the National D-Day Memorial in Bedford, Va., was commissioned by the Friends of Cedar Crest Assn. to create a sculpture for the west garden at the mansion, now resided in by Gov. Bill Graves, first lady Linda Graves and their daughter, Katie.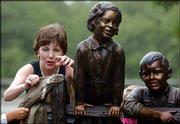 Brothers said he visited the newly restored residence and walked the grounds and through the house looking for inspiration. Inside, he saw a portrait of Katie standing on a fence. The image stuck with him and wound up being the inspiration for what became "Kansas Promise."
The two children who posed for the sculpture were at its first public appearance. Katie Graves and Sam Bear, Brothers' young neighbor in rural Lawrence, unveiled the work at a Friends of Cedar Crest reception.
Brothers said he selected Sam as a model because he was a special neighbor. Later, Brothers said he realized the choice of Sam was especially appropriate: Sam is Osage Indian and his heritage reflects the important American Indian history of the state.
The statue depicts two exuberant children climbing a split-rail cedar fence. Brothers said the fence reflected the natural surroundings of Cedar Crest and the children symbolized the future of Kansas.
Jack Brier, president of the Friends of Cedar Crest Assn., said the sculpture would become part of Kansas history.
Jennie Rose, spokeswoman at Cedar Crest, said the association raised $35,000 in private donations to commission the sculpture.
Copyright 2018 The Lawrence Journal-World. All rights reserved. This material may not be published, broadcast, rewritten or redistributed. We strive to uphold our values for every story published.