Wichita — Democratic gubernatorial candidate Kathleen Sebelius has a 17-point lead over Republican Tim Shallenburger, according to a poll sponsored by The Wichita Eagle and KWCH-TV.
Of those polled by SurveyUSA over the weekend, 55 percent said they intended to vote for Sebelius, the Kansas insurance commissioner, while 38 percent said they would vote for Shallenburger, the state treasurer. The poll, with a 3.9 percent margin of error, was published in Tuesday's Eagle.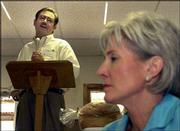 The survey questioned 680 Kansans who said they were likely to vote in the Nov. 5 election.
Only 3 percent of the respondents said they were undecided, but responses combined those who said they had made up their mind with those who were leaning toward voting for a particular candidate.
Two percent of those polled said they planned to vote for Libertarian Dennis Hawver; 1 percent went with Reform Party candidate Ted Pettibone.
While a Democrat leads in the race for governor, the poll found that Republican candidates are ahead in the races for attorney general, state treasurer and insurance commissioner.
Bob Murray, a spokesman for Shallenburger's campaign, said he was not surprised by the poll. Eight weeks before the primary election, polls showed Shallenburger trailing by 20 points, he said. Shallenburger won by 13 percent.
"The election is not tomorrow," he said.
Sebelius' campaign is not taking anything for granted, spokeswoman Nicole Corcoran-Basso said.
"We appreciate the confidence it shows in Kathleen Sebelius," she said. "The only poll we really count on is from the people of Kansas on Nov. 5."
Copyright 2018 The Associated Press. All rights reserved. This material may not be published, broadcast, rewritten or redistributed. We strive to uphold our values for every story published.