A pact that keeps one city high school marching band from taking part in an event if the other school's band decides not to perform may have rained on its last parade.
Marching bands from Lawrence and Free State high schools were conspicuously absent from Saturday's rainy Kansas University Band Day parade downtown.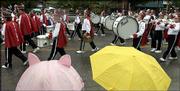 The reason: Free State band director Avian Bear made the call not to allow students to march to avoid potential damage to uniforms and instruments. Under an agreement between the schools, that meant the LHS band couldn't perform either.
On Monday, LHS director Mike Jones said the unified approach might no longer be in the best interests of the district's two high schools.
"Hopefully, we can learn from this," he said.
More than 40 bands with about 3,800 student musicians from Kansas and Missouri performed at Band Day despite the weather. Most marched in the midday parade and performed again at halftime of the KU-Southwest Missouri State University football game Saturday evening.
Bear didn't return telephone calls Monday seeking comment. Free State Principal Joe Snyder said Bear told him rain could have made students ill and might have damaged instruments.
But the decision by Bear rained on the LHS parade as well.
Jones said he was herding the Lions marching band onto buses at LHS when he learned the Firebirds were heading back to Free State.
"At that point, I was in an impossible situation," Jones said.
He decided to remain faithful to the agreement and sat out the parade. Some of his students were "very disappointed," he said. There was no way to notify parents of the action because many were waiting in vain downtown for their children to march down the street.
"Parents are requesting that decision-making policies for both schools be reviewed," Jones said.
Tom Stidham, KU band director, said he considered the Band Day event a success despite the absence of Lawrence's high school bands.
"Obviously we didn't think it was too wet because we marched our band," he said. "I was disappointed that the Lawrence High and the Free State bands didn't come, but I certainly respect the conductors' right to make the call."
Stidham said heavy rain could damage pads that cover holes on woodwind instruments. Moisture doesn't harm brass instruments.
"In fact, we are supposed to hose down and wash out brass instruments. On my horn, I use a garden hose," Stidham said.
Some Lawrence students and their families were disappointed to miss the parade for the second year in a row. Last year's event was canceled after the KU game time was switched to 11 a.m. to accommodate network television.
But Jones said LHS musicians would soon have another opportunity to perform. The LHS homecoming parade from 13th and Massachusetts streets to LHS is set for 1:30 p.m. Friday.
"We have a busy week ahead, and I am praying for good weather," he said.
Copyright 2018 The Lawrence Journal-World. All rights reserved. This material may not be published, broadcast, rewritten or redistributed. We strive to uphold our values for every story published.