Orley "Chip" Taylor is a little concerned about the number of butterflies that will be at the Baker Wetlands for Monarch Watch's annual tagging event on Saturday.
"Last year at about this time, I was fretting there wouldn't be any butterflies out there, and come Saturday there were 20,000 butterflies," he said Thursday. "There certainly will be fewer this year, but this new weather pattern should blow some in by Saturday."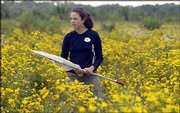 Taylor, director of the Kansas University-based Monarch Watch, will be keeping a close eye on butterfly populations Saturday, when hundreds of volunteers are expected to tag thousands of monarchs. Taylor and others use the tags to track migration patterns and population numbers as the butterflies move from Canada to Mexico.
The event, co-sponsored by the Jayhawk Audubon Society, runs from 7:30 a.m. to 11:30 a.m. at the Baker Wetlands. Volunteers can check in at the boardwalk entrance on 31st Street between Louisiana Street and Haskell Avenue. No experience is needed, and taggers are encouraged to bring a net for capturing monarchs.
Last year, 325 volunteers tagged nearly 3,000 of the estimated 20,000 monarchs at the wetlands. Eighty-five of those later were recovered in winter colonies in Mexico.
But a combination of a relatively warm winter, a major January freeze in Mexico, and a hot, dry spring have numbers down this year.
"They've taken a hit, predicting about one-third of last year's overwintering population," Taylor said.
Even if numbers are down, Taylor said there should be enough butterflies to keep volunteers busy. And they'll be sure to enjoy the Baker Wetlands, too.
"It's beautiful out there," he said. "There's lots of flowers, in spite of the drought. The wetlands always puts on spectacular floral display."
Copyright 2018 The Lawrence Journal-World. All rights reserved. This material may not be published, broadcast, rewritten or redistributed. We strive to uphold our values for every story published.