Saying a university is only as good as its libraries, former Kansas University Chancellor Gene Budig on Wednesday presented William Crowe with the first Gretchen and Gene A. Budig Distinguished Librarian Award.
Crowe served as KU's dean of libraries from 1990 to 1999, when he was selected to lead the Kenneth Spencer Research Library.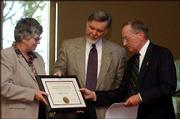 He served as vice chancellor for informational services from 1996 to 1999.
KU Endowment Association officials announced last month that Budig and his wife, Gretchen, had committed $50,000 to the endowed award.
Addressing more than 100 faculty, staff and alumni at Spencer Library, Budig called Crowe "a truly exceptional academic and an exceptional member of the academic community."
The Budig award is the KU libraries' first endowed faculty award.
In his remarks, Crowe reaffirmed both his and the library system's commitment to "a tradition of freedom to seek information and acquire truth."
Crowe praised Budig for being "one not to reminisce, but to look ahead." He called Gretchen Budig a "first-class Jayhawk."
Gretchen Budig was unable to attend the hourlong ceremony.
The Budigs now live in Princeton, N.J., where he is senior adviser to baseball commissioner Bud Selig.
Copyright 2017 The Lawrence Journal-World. All rights reserved. This material may not be published, broadcast, rewritten or redistributed. We strive to uphold our values for every story published.