Osama Abdel-Ghafer shares a first name with one of the most notorious men in the world.
That wasn't a problem for the Kansas University graduate teaching assistant from Jordan until Sept. 11. Then, last spring, an undergraduate student in Abdel-Ghafer's linguistics class noticed his first name and asked to be switched to another class.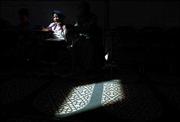 It's one of many unfair associations international students and particularly those who are Arab and Muslim say Americans have made after last year's terrorist attacks.
"I realize they don't hate me," Abdel-Ghafer said. "They're afraid of me."
Now a year later, Muslim students say their lives and their religion are returning to normal after being thrust into the spotlight a year ago.
But that doesn't mean everything is back to normal for international students at KU. Numbers are down this year as many as 80 fewer international students are enrolled, though official totals won't be released until next week.
And those who are here are facing increased tracking measures by the university and Immigration and Naturalization Services.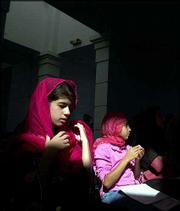 Media bias
Some Muslim students blame the American media for associating Islam with terrorism.
"The media has a very negative view of everything," said Mohammad Almasri, another graduate student from Jordan. "Most of the time, they make subtle associations. They talk about Islam and Osama bin Laden, and they show a photo of people praying."
Still, several Muslims interviewed by the Journal-World said they generally didn't feel uncomfortable after Sept. 11 and had no thoughts of returning home.
"As big as the magnitude of 9-11, I never had doubts about being pressured to leave," said Mowafiq Al-Anazi, a Saudi Arabian senior. "It's better for me to stay and finish my schooling. I never thought it would get worse (for Muslims here). I always have hope."
Some left
Not all shared those sentiments.
Joe Potts, director of KU's international student services, said about 10 Middle Eastern students most from Saudi Arabia left during the fall 2001 semester. All of those students have returned, he said.
About seven more left for the summer and couldn't get their visas renewed to return this semester.
Diana Carlin, dean of international programs, said other universities lost more international students last year. She credited KU's success to the immediate response to reassure students after the attacks. KU officials sent a memo to all international students the afternoon of Sept. 11, offering their support and services.
"It was a whole orchestrated attempt to stay in touch, to provide information in both directions to the students and from the students," Carlin said.
Increased tracking
Information again will be the focus of a new international student tracking system set for launch this spring.
The program will require universities to report to the INS when any of KU's approximately 1,700 international students arrives to campus or changes status, such as drops from a full-time to a part-time student, moves or changes majors.
KU officials will use $80,000 in increased tuition money this year to help pay for the program, which will require a full-time staff person to oversee.
Carlin worries that tracking program and stricter requirements for student visas will lead to fewer international students studying in the United States. She said many students will choose to study in England, Australia or Canada.
"Eventually it's going to hurt," she said. "The way our potential students are being hassled, other countries are competing for them. Once we lose our students, getting them back here will be very difficult."
She noted declining international numbers could harm undergraduate education, since many foreign students are teaching assistants.
New teachers
Al-Anazi came to the United States to study political science. But he's spent much of the last year teaching students about his religion, including a presentation he organized for students living in residence halls.
"I realize I have a great obligation to clear out all the fog about our religion," he said.
Ubayeed Syed, a graduate student from India, said Sept. 11 had increased his faith.
"I want to increase a bit of my prayers," he said, "asking the Almighty to end this confusion and bring peace. It made me realize how things can change. I have strong belief in my God. It's the least I could do."
This summer, Abdel-Ghafer visited the World Trade Center site while vacationing with friends.
He's said he couldn't stress it enough: The Islam he learned and practices wasn't represented by the Sept. 11 terrorists.
"The destruction I saw it, and it broke my heart," Abdel-Ghafer said. "I thought I was suffocating. We're talking about innocent people.
"I'm not a saint, but I know that much about my religion. You do not kill innocent people."
---
Staff writer Jim Baker contributed to this report.
Copyright 2018 The Lawrence Journal-World. All rights reserved. This material may not be published, broadcast, rewritten or redistributed. We strive to uphold our values for every story published.