Seoul, South Korea — The final score could not have been more politically correct.
A rare friendly soccer match designed to promote harmony between old enemies North and South Korea ended in a tie here Saturday night: 0-0.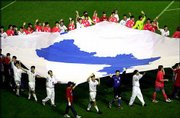 It hardly made for spectacular sport. This was no World Cup, to be sure, even though the match was played in the same stadium where this year's tournament kicked off in May. But Saturday's game was so dull that much of the crowd of 60,000 dashed for the subway before it was over.
From the standpoint of diplomacy, however, everybody seemed immensely relieved. There had been fears that if something went wrong if a victory was lopsided, for example, or a referee's call hotly disputed then the kind of ugly nationalist rivalries that intrude on soccer games under the best of circumstances could have disastrous diplomatic consequences.
"It is a nice game. It is about people coming together," said Gus Hiddink, the Dutchman who coached the South Korean team during the World Cup.
"Just the fact that they are playing is a victory," added Jean-Jacques Grauhar of the European Chamber of Commerce, one of the organizers of the event.
Politically, there were tremendous stakes riding on the match, the first between the North and South Korean teams in 12 years: It was also the first of a series of symbolic events scheduled in the next few weeks to promote reconciliation. The others include family reunions, a reconnecting of severed rail lines and North Korea's participation in an Asian Games tournament in Busan, South Korea. South Korean President Kim Dae Jung, the architect of the "sunshine" policy, desperately wants to see progress before his term ends in February.
Copyright 2018 The Lawrence Journal-World. All rights reserved. This material may not be published, broadcast, rewritten or redistributed. We strive to uphold our values for every story published.