Hutchinson — In front of a raucous Kansas State Fair crowd, the race between Democrat Kathleen Sebelius and Republican Tim Shallenburger heated up Saturday in a debate marking the unofficial start of the campaign for governor.
Sebelius pledged "unwavering" support of public education and Shallenburger pledged not to raise taxes.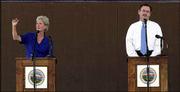 By the end of the debate, Shallenburger was saying he would not cut education, and Sebelius was stopping just short of an outright pledge against a tax increase.
Candidates were cheered throughout the hourlong live radio broadcast by 2,500 sign-waving supporters who braved the heat in the open-air Kansas Farm Bureau Arena.
Midway through the debate, a man fainted and was carried down the bleachers by firefighters who are Sebelius supporters.
Before the debate, Shallenburger and Sebelius only gingerly engaged in their campaigns leading to the Nov. 5 election.
Fifteen minutes into the debate, that changed.
In response to a question about the state budget crisis, Sebelius said, "A lot of the growth in state government occurred when Tim was speaker of the House."
Shallenburger, who was House speaker from 1994 to 1998, didn't respond to the jab.
Education and taxes
Sebelius continued to pick at Shallenburger about his comment that public schools could sustain a $69 million cut if the alternative was a tax increase.
"A $69 million cut is not acceptable to me," she said.
But Shallenburger said, "I have never said I wanted to cut education."
Toward the end of the debate, Shallenburger said Sebelius had a record as a legislator who voted for "tax increase after tax increase after tax increase."
He didn't elaborate, and his campaign provided no details except to say that in 1992 Sebelius voted for a school-funding plan that included a tax increase.
Sebelius later defended that vote, saying the Legislature was under pressure from the courts to fix the school-finance formula and the increase in state taxes resulted in a decrease in local property taxes.
Pressed by reporters after the debate about why she wouldn't pledge not to raise taxes if elected governor, Sebelius said, "The race for governor is not about a pledge; it's about priorities."
But she added that Kansans "have no appetite for increased taxes."
Most of the questions from a panel of three journalists dealt with state budget problems.
Gov. Bill Graves, a Republican prohibited by term limits from seeking re-election, and the Legislature recently increased taxes by about $300 million to shore up slumping revenue. But that tax increase hasn't been enough, and Graves recently cut spending by another $41 million.
Budget experts predict the next governor will face revenue shortfall of as much as $600 million.
A few specifics
Sebelius and Shallenburger did reveal some details regarding what they would do if elected.
Both said the state needed to do a better job catching Medicaid fraud. Sebelius said growth in the budget of the State Department of Administration "needs to be looked at."
Shallenburger pledged to cut the governor's office budget by 10 percent and mentioned the Kansas Department of Social and Rehabilitation Services as another agency that could be cut, a comment that drew boos from Sebelius supporters.
Shallenburger said holding the line on taxes would be his top priority, saying that letting Kansans keep more of their pay would help the economy and public schools.
"We have got to get lean and mean, and that's what we intend to do," he said.
Both candidates urged voters to look at their records.
As state insurance commissioner the past eight years, Sebelius said, she reduced spending in the agency by 19 percent, helped senior citizens save $7 million on prescription-drug costs and increased competition in the insurance market.
Shallenburger, state treasurer for the past four years, said he had reduced general revenue fund expenses in the agency by 30 percent and cut the time needed to process unclaimed property claims and increased the amount of unclaimed property returned to Kansans.
Sebelius seemed more in control of the debate. When the man fainted, causing a disruption, she led a round of applause for the firefighters.
Debate officials said later the man had recovered and was in good condition.
Copyright 2018 The Lawrence Journal-World. All rights reserved. This material may not be published, broadcast, rewritten or redistributed. We strive to uphold our values for every story published.