Houston — Tropical Storm Fay ran aground Saturday on the Gulf Coast with high tides and tornadoes, quickly weakening but inundating some areas with nearly a foot of rain.
As the storm's remnants slowly moved west, officials worried substantial rain could fall around San Antonio, which suffered severe flooding earlier this summer.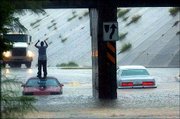 Street flooding, coastal erosion and scattered power outages were reported in southeastern Texas, but Fay caused no deaths or serious injuries.
"We were worried about Galveston, other counties along the coast," said Russ Lecklider, a controller with the state's Emergency Operations Center in Austin. "There were some evacuations on Galveston Island and the Bolivar Peninsula, but not large numbers of people. We got off very easy in the coastal areas."
Brazoria, Matagorda and Wharton counties had 5 to 8 inches of rain, and Freeport and West Columbia in Brazoria County reported nearly a foot of rain.
"The rain was so heavy you couldn't even see out of the house," said Edward Guajardo in the city of Wharton, about 60 miles southwest of Houston.
The storm's influence also extended eastward along the Gulf Coast, with 3.61 inches of rain at Pascagoula, Miss.; 1.03 at Mobile, Ala., and 0.74 of an inch at Boothville, La.
The storm had stalled off shore all day Friday and threatened to become a weak hurricane, but it never gathered enough strength. When it came ashore early Saturday southwest of Houston, it had sustained winds approaching 60 mph. The minimum for a hurricane is 74 mph.
Tide gauges at Freeport showed the storm surge at 4 1/2 feet above normal tide level early Saturday. In coastal areas, the surge usually is the most destructive part of a tropical storm or hurricane.
Tornadoes were reported later Saturday in Wharton County. One destroyed a mobile home at Boling, and another damaged a home and a truck at Hungerford, said Matt Moreland, a forecaster with the National Weather Service's Houston-Galveston office. Another tornado was reported in Fort Bend County.
In Wharton, Guajardo planned to stay at a hotel Saturday night because the rain had flooded his house.
"This is the third time I get flooded out," said the 60-year-old retired mining company worker. "This has been the worst."
After passing the coast, the storm's remnants headed toward San Antonio at a clip of 7 mph.
"San Antonio, the Hill County, South Central Texas could see 5 to 10 inches of rain," Moreland said. "We could have some serious rainfall and flooding problems over there."
Fay was the first tropical storm to threaten Texas since June 2001.
Copyright 2018 The Associated Press. All rights reserved. This material may not be published, broadcast, rewritten or redistributed. We strive to uphold our values for every story published.