Two games into the college football season, Kansas University will turn to its second starting quarterback Saturday night at UNLV.
"We'll go with Bill Whittemore at quarterback," coach Mark Mangino announced Tuesday at his weekly news conference. "Zach (Dyer) will work as the backup. We made that decision based on the fact that we got a little bit of a spark out of Bill."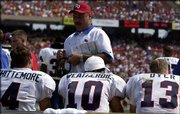 Mangino said during the preseason that he wanted to avoid platooning his skill-position players, but he has found himself in that position because his quarterbacks and running backs failed to distinguish themselves in a 45-3, season-opening loss last Saturday at Iowa State.
Dyer started last year's season opener against Southwest Missouri State, but started only three more games and split time with Mario Kinsey.
Mangino said he wanted to avoid that kind of quarterback controversy this season, in part because it hurts a player's confidence. But the first-year coach yanked Dyer from this year's season-opener after the junior completed only six of 14 passed for 50 yards in the first half. Dyer also lost 16 yards on seven carries.
"I didn't think Zach kept his poise," Mangino said. "He wasn't able to overcome bad plays. We needed some leadership and some spark out there on offense, and we didn't have that."
Whittemore entered in the third quarter with Kansas trailing 17-0. He wasn't able to reverse the Jayhawks' fortunes, but the junior from Fort Scott Community College did lead KU on its only scoring drive a 15-play, 68-yard march capped by Johhny Beck's 28-yard field goal.
Whittemore, who was the Jayhawk Conference MVP last season, finished 4-of-17 for 31 yards, but had several passes dropped. He picked up 29 yards on seven carries.
"He missed some checks at the line of scrimmage, and there were some things he didn't recognize," Mangino said. "That's partly my fault because Zach's been getting most of the repetitions with the No. 1s in practice. You can't rep two or three quarterbacks equally because then you promote mediocrity. You have to have one take the majority of the reps with the ones and that's who you go with."
For now, that's Whittemore.
If KU's receivers have a preference of which quarterback starts, they're not telling.
"The best guy is going to be out there, and we need to catch it regardless," said senior receiver Marcellus Jones, who made one catch for 15 yards against Iowa State. "That's what matters to us, catching the ball and making plays. Both those guys are good guys, and we're going to rally around whoever's out there."
Mangino hasn't settled on a starting running back for Saturday's game. Junior starter Reggie Duncan managed only 21 yards on nine carries against ISU, while red-shirt freshman Clark Green had 31 yards on nine carries.
"At running back, we haven't made a decision because we're really working both those guys," Mangino said. "In any case, you'll see a little more of Clark Green regardless of who we decide to start."


Floodman update: Sophomore linebacker Banks Floodman suited up for Tuesday afternoon's practice after missing Monday's workout to be with his ailing grandfather in Wichita. Floodman, who injured his right knee in the season opener, went through stretching exercises with his knee wrapped Tuesday, but did not participate in drills during the 30-minute portion of the two-hour practice that was open to the media.
Mangino has not revealed the severity of the sophomore's injury, but sources close to Floodman have said that the linebacker tore his anterior cruciate ligament.
Floodman underwent a magnetic resonance imaging test on Sunday, and results of that procedure were forwarded to a specialist in Denver for further evaluation.
"We'll know Wednesday a little more about his status," Mangino said. "I'm listening carefully to what our medical staff is telling me."


Seeing the sights: Mangino said the team would take a bus tour of the Strip in Vegas. The Jayhawks won't be allowed to gamble.
"If you just watch people in Las Vegas," Mangino said, "that's entertainment enough."
Copyright 2018 The Lawrence Journal-World. All rights reserved. This material may not be published, broadcast, rewritten or redistributed. We strive to uphold our values for every story published.