Indianapolis — Only one more game at the World Championships will match two unbeaten teams. The United States warmed up for it by getting their act together in the second half Tuesday night.
With Kansas University product Paul Pierce and Michael Finley leading the way, a dominant third quarter made up for an uninspired first half in a 110-62 victory over New Zealand.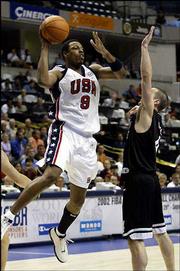 Pierce and Finley scored 20 apiece and Shawn Marion added 16 for the Americans (5-0), who conclude the second round against Argentina (5-0) on Wednesday night. The quarterfinals are Thursday.
"In a lot of ways, the games begin now. Every team has a chance to beat us if we don't play the right way," U.S. coach George Karl said.
Karl watched parts of the Argentina-Germany game from the tunnel near the Indiana Pacers' locker room, and his team came out playing as though they were looking ahead instead of concentrating on the present.
Despite being without its only NBA player as Sean Marks sat out with a scratched eye, New Zealand kept it close for 24 minutes. The U.S. team outscored them 27-10 in the third quarter, and 35-10 in the fourth to make it a rout.
The Americans, playing lethargically for long stretches, didn't open their first double-digit lead until midway through the third quarter. They held New Zealand scoreless for a stretch of 61â2 minutes and used a 15-0 run that included an eight-point possession to break things open.
"We tried every trick in the book," New Zealand coach Tab Baldwin said. "For a while there were some things that worked, but the water on the other side of that dam is pretty deep and pretty cold, and we didn't have enough fingers to keep that thing from busting."
The United States improved to 58-0 when using teams of NBA players in international competitions, but that unblemished record could be at risk against the South American champions.
Argentina has been one of the most impressive teams in this tournament, scoring 100 points per game and winning by an average of 20.8 points.
"They're probably more NBAlike than any team that we play. They have very good players at every position, and they have the depth to go 10 or 11 deep," Karl said.
"We've been successful wearing teams down and fatiguing them, but I don't know if that's going to be the case tomorrow."
Just last week the Argentines viewed the Americans as unbeatable, but that opinion has changed as the U.S. team has struggled for long stretches against mediocre opponents such as Germany, China and New Zealand.
Copyright 2017 The Associated Press. All rights reserved. This material may not be published, broadcast, rewritten or redistributed. We strive to uphold our values for every story published.