College Station, Texas — Freshman quarterback Reggie McNeal has played only one series for No. 20 Texas A&M;, but his successful debut has created a lot of excitement and a potential controversy.
Now that coach R.C. Slocum has decided against redshirting McNeal, the Aggies have to determine how much the freshman will play.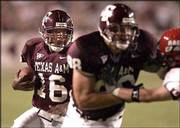 And if he plays well, does he get a chance to take over as the starter ahead of 27-year-old senior Mark Farris?
"Most young guys need a year to develop and grow, but based on how Reggie did (in two-a-days), I made the determination to go ahead and use him," Slocum said. "If we'd have had a clear-cut No. 2, then I probably would've redshirted him. But in seeing him practice, I said we'd have some competition for the backup spot and, who knows, maybe for the starting spot."
McNeal only confirmed that when he completed both of his passes for 28 yards and had two rushes for 12 yards, the last a 7-yard gain on third-and-6, in his only series against Louisiana-Lafayette. He entered the game to a wild ovation from the Texas A&M; fans, and only excited them more by leading the last TD drive of the game in the Aggies' season-opening 31-7 win.
"They might need to calm down a bit. I still have work to do and things I need to learn," McNeal said. "I'll just continue to go to practice everyday and work hard and let the coaches make the decisions."
Even though his first action came against a worn-down Lafayette team, McNeal realized how much faster the college game is.
"In high school, I probably would have scored on a couple of those plays," said McNeal, who led Lufkin High to the Texas Class 5A Division II championship in December
Farris is still the starter, despite going 13-of-32 for 171 yards in Saturday's opener. He was just 7-of-20 for 88 yards in the first half when the Aggies managed only a 3-0 lead even after Lafayette had six of its 10 turnovers.
Slocum says he will start the best player at quarterback. And he gives Farris "the benefit of the doubt" because he missed some preseason drills with elbow soreness.
"My intention has always been to play the player who gives us the best chance to win and we will continue to do that," Slocum said.
Farris, whose college career began after he played professional baseball, is 16-9 as the Aggies' starter and his .580 career completion percentage (430-of-742) is the best in school history.
Still, the Aggies had the second-worst offense in the Big 12 last season. And while they had 423 yards against Lafayette, 150 of those came in the fourth quarter after the outcome was determined and when McNeal and sophomore Jason Carter (team-high 42 yards rushing) played.
As for the potential controversy, Farris knows that is just part of playing quarterback.
"It's really not an issue for me. You learn that quick playing quarterback, and that it's best not to be reading papers or listening to the talk shows," Farris said.
"You learn to go about your business, control what you have in front of you and let everything else take care of itself."
Sophomore Dustin Long was the first quarterback off the bench against the Ragin' Cajuns, but he was 3-of-12 with two interceptions. McNeal will probably be No. 2 on the depth chart for Saturday's game at Pittsburgh.
"I'll be ready for whatever role they have for me," McNeal said. "They are getting us ready to be prepared for anything."
Copyright 2018 The Associated Press. All rights reserved. This material may not be published, broadcast, rewritten or redistributed. We strive to uphold our values for every story published.