A photography program designed to reach out to poor and at-risk teens has been canceled because the state didn't renew funding.
The "Foto Loco" program was offered at Pelathe Community Resource Center, 1423 Haskell Ave. Students in the class had photographs featured in annual exhibitions at the United Way of Douglas County building and Lawrence Public Library, as well as displays printed in the Journal-World.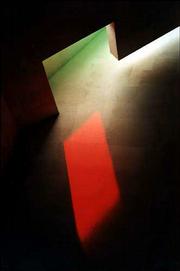 "I think a lot of kids took the class who wouldn't have got into photography otherwise," said Lauren Kimball Brown, a 16-year-old student who was in the last class this year before funding dried up. "I learned a lot."
Gary Smith, a Lawrence photographer who taught the class, said more than 150 students mainly at-risk teens, but also adults and gifted students participated since the program started in 1997.
"It was great for these kids to see their parents come in and see the exhibition and say, 'I can't believe that my kid did this!'" Smith said. "It was quite the self-esteem push."
Some students discovered an artistic bent within themselves, he said.
"Their pictures were interesting and they were different," he said. "If they come out of the alleys with great pictures of Dumpsters and stuff, which they did, they could get great pictures anywhere."
But the Kansas Arts Commission, which gave Pelathe $14,000 for the photography program and a poetry program last year, didn't continue the funding.
Karen Brady, program consultant for the Kansas Arts Commission, said roughly three dozen organizations received grants for the 2003 fiscal year that started in July. She said she didn't know why a review panel decided not to give Pelathe a new grant.
"It comes down to who the panel thinks are the most worthy of funding," Brady said. "I wish we could fund everything that comes to us, but unfortunately the Legislature doesn't give us an unlimited amount of money."
Pelathe officials were not available for comment Tuesday.
United Way and Lawrence Arts Center also supported Foto Loco, Smith said, as did private donors. But the state grant was what kept the program afloat, he said.
"Private donors could've saved the program, but I'm an artist," he said. "I don't know any rich people."
Smith said he'd try his hand at fund-raising next year he plans to collect pledges for driving in the Douglas County Free Fair demolition derby But he said it's unlikely the program would be revived before then, even though 37 students are on the waiting list.
"I think it's a shame, because the program was incredibly strong," Smith said. "You couldn't have had a program that had a stronger connection with the community, but it also was educational."
Copyright 2018 The Lawrence Journal-World. All rights reserved. This material may not be published, broadcast, rewritten or redistributed. We strive to uphold our values for every story published.