Give a team three penalty kicks, and odds are it'll win.
Just ask the Lawrence High soccer team.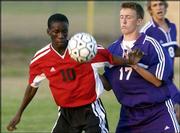 The Lions were victimized by bad luck and mental errors in Tuesday night's 4-1 loss to Topeka West at the Youth Sports Inc. fields. Two penalty kicks were awarded to the Chargers in the first 13 minutes they missed both and another 13 minutes into the second half. But it was what those kicks did to the Lions that really hurt.
"It didn't cost us the game," said senior midfielder Josh Yurick. "But I think it took our heads out of it."
The Lions, 0-2, displayed better passing and overall cohesiveness than they did during Friday's loss to Manhattan, but found themselves on the short end of the penalty stick.
Topeka West missed its first shot wide right, but made its second penalty kick, only to have it disallowed after a Charger entered the penalty area illegally. It befuddled the Lions at first, appearing to make them more hesitant around the ball.
They regrouped, as junior forward Oscar Ortega received the ball three minutes later at midfield, dribbled by two defenders to Topeka's 18-yard line and fired his shot at the goalkeeper. It was just one of several jaw-dropping plays Ortega would make, but he couldn't finish.
"We had more chances on goal, and our midfielders controlled the ball most of the game," LHS coach Keith Nelson said. "They played hard and they gave everything they had, mentally and physically. That's all you can ask."
The Chargers scored the game's first goal with 21 minutes left in the first half, when Grady Woodruff took the ball off a short corner kick, dribbled to the endline and passed to a wide-open Andy Breeding in front of the Lawrence goal, who headed in the ball.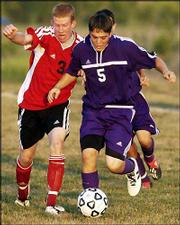 The Lions answered less than a minute later, when Yurick was tripped in the box. Senior Josh Lorenzo converted the penalty kick, tying the game at 1.
The second half was a mixture of Lawrence making runs at the Topeka goal, and Topeka answering on counter attacks. Nearly 10 minutes into the second half, Topeka's Brad Erwin scored the first of three second-half goals, dribbling around one Lion defender, juking goalkeeper Sean Hargis and putting the ball in the side net.
Four minutes later, he finally gave the Chargers a penalty-kick goal, then scored six minutes later when he was left unmarked on a corner kick.
Three penalty kicks, one goal; two unmarked men, two goals.
Nelson wasn't unhappy with his players, though. He couldn't fault bad luck, just a couple of costly mental errors. When LHS travels to Shawnee Heights on Thursday, he's confident that his team will bounce back.
"It comes down to experience," Nelson said. "You can't throw kids out onto the field and expect to play premier soccer. We played two great teams so far. This team, they had 14 seniors and went to the Final Four last year. For us to play the way we did, says a lot."
Copyright 2018 The Lawrence Journal-World. All rights reserved. This material may not be published, broadcast, rewritten or redistributed. We strive to uphold our values for every story published.