Lawrence High senior Dylan McClain came to Tuesday's practice feeling a little sick. His head hurt, his nose was running; the basic fall blahs that could be counted as really bad allergies.
Yet here he was, preparing for a speed workout at practice a series of 1,200- 1,000- 800- and 400-meter runs on the hills at Haskell Indian Nations University and McClain managed to get himself up for the workout.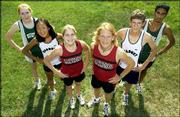 That sums up cross country. You either motivate yourself, no matter how you're feeling, or you don't excel. And McClain, the Lions' top runner last season, winning the Sunflower League and regional titles and placing second at state, is the best example of that.
"You just learn to motivate yourself," he said. "There's times where you find yourself on autopilot, where you know what you want your body to do, even if you don't feel like it."
When the Lions open their season Saturday at the Overland Park Aquinas Invitational at Johnson County Community College, motivation shouldn't be a problem. Lawrence finished second at state last year, and will be gunning for the title against this season. McClain, senior John Zehr and junior Andy Struble lead a Lion squad that enters the season ranked No. 1 by the Kansas Cross Country Coaches Assn.
"I think we're going to be a little bit deeper this year," said coach Dick Reamon. "The question is, can we develop a quality four, five runner?"
Right now, junior Harry Swartz and sophomore Jacob Kucza should be the four and five runners, with senior Michael Shackleford, junior Jacob Rahmeier, sophomore Drew Vogel and freshmen Kyle Morgison and Matt Riley competing for the final two varsity spots.
The girls' squad has six of seven varsity runners returning, losing their top runner in Sarah Wilson, who placed 27th at state. Still Reamon's happy with his depth, and he hopes that the strides the team made at the end of the season can propel this year's team to a fast start.
"I felt like we just turned the corner at the end of the year," Reamon said. "Hopefully, that season success has some carry-over."
The No. 6-ranked Lions are led by seniors Lauren Davis, Erin Bennett, Liz Kincaid, junior Meg Gentry, sophomore Jenny Beasley and freshmen Raya Bowden and Megan Johnson, who have seized the early varsity spots. Reamon thinks some of that could change by mid-season.
Free State
Firebird runners deal with the same question a lot: "How can you run, every day, in that heat?"
It's a question some runners are prepared for; others just give a token response to something that gets awfully repetitive.
"Probably 20, 22 times a day on average," said senior Hiral Bhakta. "Sometimes 23. What can you say? You just run."
Bhakta's the top runner returning form last year's team that finished third at state. Senior Adrian Ludwig is the only other Firebird with lots of varsity experience, though coach Steve Heffernan expects his squad to be among the top teams again this year. Juniors Kyle Carter, Michael Lee and sophomores Jared McDonald, Ryan Rastok and Alex Rock round out the varsity runners.
FSHS is the No. 5 team in the preseason poll. The girls' team, which returns nine of its top 10 runners from last year, also is ranked No. 5, though Heffernan said all that could change by Saturday's opening meet, the Aquinas Invitational.
"Five of the top six ranked teams will be at that meet," Heffernan said. "You open up and you know right where you're at."
Senior Mallory Richardson, 27th at state last year, is the Firebirds' top runner, followed by freshman Alysha Valencia, seniors Annie McEnroe, Rychel Johnson and Maggie Brooke and sophomores Robyn Lee and Allison Yoder.
Seabury Academy
The Seahawks don't have to worry about who to run in varsity events with only seven girls and six boys, they'll run them all.
"It's nice that I don't have to worry about that," said Seabury coach Jill Boyle. "We're just letting them all go varsity."
The Seahawks open their season Sept. 14 at the Wamego Invitational, probably one of the biggest meets they'll attend this year. For the fairly young team just sophomores and freshmen on the girls' roster, one junior, two sophomores and three freshmen dot the boys' roster it'll be a learning experience. Some of them have been running with the team since seventh grade.
"This is the first year they're actually running against varsity teams, but they've been with us for a few years now," Boyle said. "Even though they're probably young by high school standards, they probably feel older than they actually are."
Boyle said Linaya Newstrom, Katie Pottorff and Regan Marie Sisson should be her top girls runners, while Matt Parker and Adam Davis should be the boys' standouts.
Copyright 2018 The Lawrence Journal-World. All rights reserved. This material may not be published, broadcast, rewritten or redistributed. We strive to uphold our values for every story published.