Douglas County's $4 million expansion and renovation of the Judicial & Law Enforcement Center is more than six months behind schedule, but county officials aren't all that worried.
"Have you ever seen a project like this get done when it's supposed to be done?" County Administrator Craig Weinaug asked rhetorically. "I have never had a project get done when a contractor said it was supposed to be done you have weather delays, you have unexpected problems come up.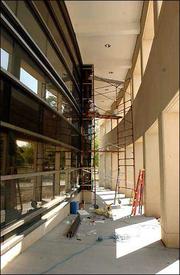 "As far as I'm concerned it's part of the normal course of business. If you have a problem, it's a lot more important to make sure you solve the problem right than to rush just to meet a schedule."
After enduring 31 change orders, hauling away 150 tons of concrete and redesigning a floor-support system, the law enforcement center project is scheduled to be finished by the end of September.
According to the county's contract with Champion Builders of Topeka, the $4 million construction job was supposed to have wrapped up by Feb. 23.
None of the changes or delays has added to the project's original cost, Weinaug said. Some changes have saved money, while others have been covered by insurance payments, contractor allowances or the project's $200,000 contingency budget.
The county, contractor and architect all have shared varying degrees of responsibility in the delays, Weinaug said, and for solutions to problems that have surfaced during the work.
When construction began back in February 2001, for example, county officials expected to use the expanded section of the building's second floor to store paper records. The floor was designed to carry the relatively heavy weight.
But commissioners soon backed off that plan, and decided to reserve the space with broad windows overlooking a courtyard and the county courthouse for future office uses. That lightened the load on the floor, and required that metal supports be adjusted to reflect the change.
The word never made it to the contractor. Half of the supports already had been installed, and the other two had to be changed to keep the floor level.
"That was a 30-day delay," said Kenny Hartter, Champion's project manager.
In the end, though, county officials say they will get what they need, including a new courtroom, an expanded space for evidence storage, combined offices for court-related services and extra space for records storage.
Getting those assets in place, however, hasn't been easy. Workers in affected areas were displaced temporarily, and dozens of employees have complained about air-quality problems that may have been kicked up during construction.
Champion's crews endured another 30-day contract extension to take care of another unexpected problem: the uneven concrete floor beneath the old county jail, on the second floor.
The floor couldn't be used for new offices, forcing crews to break up and haul away 150 tons of concrete.
"We had no idea all this would happen," Hartter said. "It's just a chance you take, in a remodel (job). You can pretty much figure on a couple months of delay, but when it keeps dragging on and on it's just gotten out of hand with all the changes."
Now all that remains are a few details, such as landscaping the courtyard outside and installing tile inside the Sheetrock shower stalls in the police locker room.
County officials are ready to return to a relative sense of normalcy. The end of September can't come soon enough.
"We're all ready for it to be over," said Pam Madl, the county's director of administrative services, who has been overseeing the project. "We'll be happy if we can get everything accomplished by that time."
Copyright 2018 The Lawrence Journal-World. All rights reserved. This material may not be published, broadcast, rewritten or redistributed. We strive to uphold our values for every story published.