Minneapolis — Minnesota's football players took the field Tuesday afternoon after attending their first classes of the fall semester, but their minds were far from the books or on blocking schemes.
The Golden Gophers, still stunned by the shooting of teammate Brandon Hall, practiced for the first time since his death early Sunday.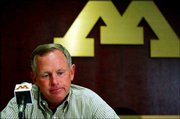 "It's been a tough few days around here," coach Glen Mason said.
The Gophers, who beat Southwest Texas State 42-0 in their season opener just a few hours before Hall was shot outside a downtown dance club, will practice again today and Thursday before traveling south on Friday.
They play Louisiana-Lafayette on Saturday, but nobody will be worrying about the Ragin' Cajuns much this week.
"I haven't even thought about it all weekend," tight end Ben Utecht said. "The game disappeared. Everything disappeared."
A memorial service, open to the public, will be held Thursday night for Hall at Williams Arena, and Mason plans to attend Monday's funeral in Detroit.
The Gophers will wear a No. 71 patch on their jerseys the rest of the season and retire Hall's number until 2005, when he would've been scheduled to graduate.
"I've never seen a defensive lineman who smiled so much," said quarterback and co-captain Asad Abdul-Khaliq. "Most all of those guys are mean and tough, but 95 percent of the time he was the most hilarious guy. You never saw him sad or upset.
"His future was limitless, man. He had some of the rawest talent I'd ever seen."
Police said Hall was with a group of players who went looking for three men who allegedly assaulted and robbed defensive end Damian Haye earlier that night.
A spokesman for the Hennepin County attorney's office said charges against the three suspects are likely to be filed by noon today.
Teammates believe Hall wasn't headed downtown to look for trouble.
"It's difficult," Abdul-Khaliq said. "How many times we've all been out and seen an altercation, but nothing like this has ever happened before.
Mason often warns his players to be careful about where postgame revelry might take them.
"I am one of the biggest second-guessers in the business as far as how to prepare a team," Mason said. "I'm driving down (Interstate) 394 at 4 a.m. thinking, 'What could I have done different?'
"But other than sending the kids back to the practice facility to watch film and locking the door and saying, 'You can't leave,' there's not a darn thing I could've done."
It's Mason's responsibility to provide balance between game preparation and grieving.
"I don't have the answer," Mason said. "I'm going with the slow approach. I make the calls as I see them. I've got to listen to the kids. I don't want to force anybody to do anything at this point."
Copyright 2018 The Associated Press. All rights reserved. This material may not be published, broadcast, rewritten or redistributed. We strive to uphold our values for every story published.