Topeka — Cindy Horchem applauded the governor Tuesday for saying what she believes should go without saying.
"We know it's a challenging time in our state," Gov. Bill Graves told 300 students and teachers at Landon Middle School. "I wish we had a little more money."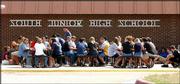 While designating September as "Support Public Schools Month," Graves didn't specifically mention the $17.4 million he cut from aid to public schools just three weeks ago.
He did call upon Kansans to rededicate themselves during harsh economic times to strengthening the state's 1,500 public schools and to honoring thousands of people working daily to educate children.
Horchem, community outreach coordinator at Stormont-Vail HealthCare in Topeka, was singled out by Graves for her work as a business partner with the Landon school.
Horchem said it was appropriate for politicians and community leaders to stand tall in support of the state's 303 public school districts.
"I think a majority of people think they deserve all the money they get," she said.
Facing a revenue shortfall, Graves ordered state spending cut $41 million in the 2002-2003 budget year. One-third of that total was sliced from the $2.3 billion spent annually on public schools.
Graves told students at the school named for the late Kansas Gov. Alf Landon that they were the future of the state, and that a lot was riding on their ability to get a good education.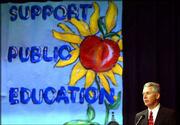 "We have high expectations for all of you," Graves said.
Graves said Stormont-Vail's financial and volunteer involvement in Landon was one piece of the public education puzzle.
He gave signed copies of the "Support Public Schools Month" proclamation to representatives of 16 occupations that help make schools tick.
In addition to the business partner were the superintendent, principal, teacher, parent, bus driver, cook, secretary, paraprofessional, nurse, police officer, local school board member, maintenance manager, state Board of Education member, state senator and state representative.
"There are so many people who work so hard every day in a variety of roles," Graves said.
The governor, who has tangled with lawmakers about the appropriate level of state funding of public schools, said the role of legislators was underappreciated. Balancing competing demands for state tax dollars is tough, he said.
"From a distance we believe it's a lot easier than it is," Graves said.
Andy Tompkins, state commissioner of education, sat in the back row of the Landon auditorium during Graves' remarks.
Though 90 percent of all Kansas children are in public schools, Tompkins said he's aware that not every Kansan agrees a tax increase is needed for public schools. Only one-fourth of adults in the state have school-age children, which makes it tougher to make the argument for more investment in schools.
"There are always detractors," Tompkins said.
That makes it essential for Graves and other elected officials to voice their support of public education, said Bill Wagnon, a Topeka Democrat who will represent most of Lawrence on the state Board of Education after January.
"When you've got something good, you don't take it for granted. It bears repeating," Wagnon said.
Copyright 2018 The Lawrence Journal-World. All rights reserved. This material may not be published, broadcast, rewritten or redistributed. We strive to uphold our values for every story published.