Beijing — People in Xu Wanzhi's village were puzzled when a lone Japanese plane soared overhead early in World War II such aircraft usually flew in threes. In the days that followed, 16 people died, including Xu's parents and three siblings.
The plane was dropping grain and cotton carrying fleas infected with bubonic plague, Japan later acknowledged. Xu, then 3 years old, was left to be raised by his blind grandfather.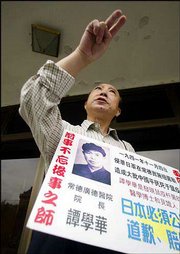 "It was a massive catastrophe for our family. Everyone suffered so much," said Xu, now 65.
In a historic decision last week, a Tokyo court handed 180 plaintiffs, including Xu, a partial victory, acknowledging for the first time Japan's use of biological weapons in World War II. But it rejected their demands for compensation.
The plaintiffs, all Chinese citizens, sued the Japanese government in 1997, saying they were injured or lost relatives in wartime germ attacks. They demanded an apology and $84,000 each in compensation.
Plaintiffs said Tuesday they had appealed to a higher court last week, but they didn't know when the case might be heard.
"Japan's own interest is in resolving this issue, in owning up to its responsibilities and compensating victims," Wang Xuan, a representative of the plaintiffs, said at a news conference.
The plaintiffs claimed at least 2,100 Chinese perished in outbreaks of cholera, dysentery, anthrax and typhoid that were allegedly mass produced by the Imperial Army's notorious Unit 731. The court heard testimony from aging witnesses flown in from China.
Historians say the unit, which was based in the northeastern Chinese city of Harbin, may have killed as many as 250,000 people in experiments. None of its members has been tried for the wartime activities.
Tokyo acknowledged the existence of the unit after decades of denial but hasn't disclosed any details about its activities.
Japan's courts say international law bars foreign citizens from seeking compensation directly from the Japanese government. They say such issues were settled under postwar treaties.
Dr. Tan Jialin, 67, recalled how his father, the president of his town's only hospital, forbade his children to leave their rooms after cases of plague began appearing.
"It was just horrific. There was mass panic in the town" of Changde, in Hunan province, said Tan.
His father, H.H. Tang, preserved infected fleas and grain in test tubes as evidence and gave testimony to investigators after the war.
The first plague cases around Changde turned up in November 1941, and over the next six months, more than 7,000 people died in the area.
"This case isn't about money. It's about the dignity of the Chinese people," Tan said.
Copyright 2018 The Associated Press. All rights reserved. This material may not be published, broadcast, rewritten or redistributed. We strive to uphold our values for every story published.