Washington — America's Muslims and the Islamic faith are losing U.S. public opinion battle and must fight back, speakers Saturday told the Islamic Society of North America.
The worst thing American Muslims could do is remain silent, said Salam Al-Marayati, director of the Muslim Public Affairs Council, a Los Angeles-based advocacy group.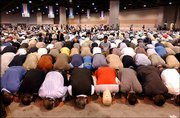 Acquiescence is "exactly what the hate-mongers want. They want our inaction," Al-Marayati told the society's estimated 35,000 Washington convention attendees.
He and other speakers urged Muslim-Americans to join and support Islamic religious organizations, register to vote, protest offensive U.S. foreign policies and complain formally about negative media coverage.
More than 2,000 Muslims nationwide have reported faith-related violence, harassment, suspicion and civil rights violations after the Sept. 11 terrorist attacks, according to The Council on American-Islamic Relations, a Washington-based advocacy group. Estimates of the number of Muslim Americans range from 2 million to 9 million.
Among Christian leaders who've painted the Islamic faith as evil, speakers said, were conservative television commentator Bill O'Reilly, conservative Christian broadcaster Pat Robertson and the Rev. Franklin Graham, son of evangelist Billy Graham.
Most Americans harbor no ill will toward Muslims, said Al-Marayati, but a small and vocal minority is attempting to the marginalize their religion and culture.
Last Sept. 11, Al-Maryati and other Muslim leaders were preparing for a 3 p.m. meeting with President George Bush when terrorists attacked the Pentagon and the World Trade Centers in New York. Within hours, he said, nearly every Muslim organization in America put out statements condemning the violence.
Louy Safi, research director with the International Institute of Islamic Thought, a think-tank in Herndon, Va., said Muslim children must be urged to seek careers in politics and journalism to assure that Muslim voices and opinions are heard and presented accurately.
He also called for the development of Muslim think tanks to offer public policy solutions that reflect the Muslim perspective.
As important, Safi said, is improving understanding of the Islamic faith by reaching out more to the larger American society.
Copyright 2018 The Lawrence Journal-World. All rights reserved. This material may not be published, broadcast, rewritten or redistributed. We strive to uphold our values for every story published.