Anaheim, Calif. — With Jackie Autry riding alongside Minnie Mouse, tens of thousands of Angels fans cheered the team's first World Series championship on at a Disneyland parade and later at a huge rally at Edison Field.
"For all the Angels fans who have been here from the beginning, and all the Angels we had above, this championship is for you," manager Mike Scioscia said at Tuesday's rally.
Two hours earlier, Scioscia held the World Series trophy aloft at Disneyland, which was awash in Angels red, with shirts, hats and faces painted with halos. Fans there had paid as much as $45 for a ticket to the park, where the parade was held along Main Street.
Jackie Autry is the widow of Gene Autry, who formed the expansion team in 1961. The Walt Disney Co. bought the Angels after Gene Autry died in 1998.
The hard-luck team had never won a playoff series before beating the New York Yankees earlier this month in an American League division series. They then beat the Minnesota Twins to win the American League pennant and capped it off by winning the World Series over the San Francisco Giants in seven games.
A second parade began at Arrowhead Pond, home of the NHL's Mighty Ducks, and ended with a rally at Edison Field, home of the Angels.
"I waited 10 years for something like this," Angels veteran Tim Salmon told the screaming crowd. "But I know you guys have been waiting a lot longer. This is yours."
Added Angels relief pitcher Troy Percival: "We want to do this every year."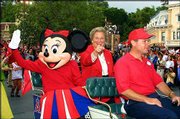 Anaheim city officials estimated that 100,000 people attended the parade and rally in a parking lot at Edison Field. No major incidents were reported, but several people were arrested for darting in and out of traffic, police said.
The parade and rally at Edison Field were free. However, fans had to pay an admission charge at Disneyland and Disney's California Adventure park. Disney has come under fire for charging fans who wanted to attend the events.
John McClintock, a spokesman for the Disneyland Resort, said there could have been severe overcrowding and other logistical problems if the parks had been opened free.
Linda Johnen said she went to Disneyland to see the players.
"I'm here for these wonderful guys called the Angels," she said. She held a pair of ThunderStix on which she had written, "They are the wind beneath my wings."
Kelly Baas, 18, arrived for the Edison Field rally wearing angel wings and a halo.
"Everyone is making fun of me, but I don't care," she said of the costume. "I missed school. I missed work. I missed everything to be here."
Copyright 2018 The Associated Press. All rights reserved. This material may not be published, broadcast, rewritten or redistributed. We strive to uphold our values for every story published.