Moscow — Weeping relatives bent over the uniformed body of Col. Konstantin Litvinov and threw handfuls of dirt onto his coffin Tuesday as Russians began to bury the hostages killed during a 58-hour standoff with Chechen rebels.
A senior Russian official, meanwhile, issued the Kremlin's strongest defense yet of the decision to fill the Moscow theater with a secret gas before special forces raided it early Saturday, rescuing hundreds and killing 50 of their captors.
The incapacitating gas was intended to prevent the hostage-takers from triggering explosives strapped to their waists and rigged around the theater. It worked, but it also knocked out most of the hostages, killing 116.
As of Tuesday, 245 rescued hostages remained hospitalized, 16 listed in serious condition, Interfax reported. A total of 418 patients have been released. Among the dead were nine foreigners, including one American.
"There was not one scenario that could have guaranteed the lives of the hostages and the special forces in a theater filled with 330 pounds of explosive devices," said Sergei Yastrzhembsky, an aide to President Vladimir Putin.
At a Moscow cemetery, Russian soldiers in heavy green coats marched under gray, rainy skies to pay their final respects to Litvinov, who was in the audience of the "Nord-Ost" musical production with friends when the terrorists struck. Litvinov's body was laid out in uniform, surrounded by dozens of red carnations, as his anguished wife and grown children stood nearby.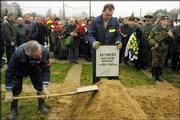 Across town, friends of a 25-year-old engineer and theater lover, identified by Russian television as Alexei Batchkov, gathered on the muddy paths of the Kuzminskoye cemetery around a freshly dug grave. Russian television showed them throwing clumps of earth over the coffin.
While the Saturday rescue operation has been criticized in the Western media, most Russians appear to have accepted the losses. An attempt by the liberal Union of Right Forces faction in the Russian parliament to set up a commission to probe all aspects of the hostage crisis including the rescue looked doomed when it failed to win support of key centrist parties Tuesday.
"Fatalities would have been inevitable in any case," said Andrei Seltsovsky, chief of Moscow's health department, according to Interfax. "If the terrorists had simply left the building and surrendered to the authorities, many seriously ill people would have remained inside."
The U.S. Embassy confirmed Tuesday the death of American Sandy Booker, 49, an electrician from Oklahoma City who was among the hostages. U.S. Ambassador Alexander Vershbow said one other American survived.
Copyright 2018 The Associated Press. All rights reserved. This material may not be published, broadcast, rewritten or redistributed. We strive to uphold our values for every story published.