Mark Mangino can accept the fact his placekicker has missed eight straight field-goal attempts.
What is unacceptable to the Kansas University football coach, however, is his perception that beleaguered sophomore Johnny Beck sometimes outwardly appears to blame others for his misfortune.
"We're talking to all our kids about accepting responsibility for your own shortcomings. If it's your fault the ball didn't go through the uprights, accept it. Be a man. There are no excuses in our program," Mangino said Tuesday at his weekly news conference.
"When I coach lousy, I say I coached lousy. You can't hide lousy coaching. You can't hide a lousy performance at any position on the field, and you have to accept responsibility for your performance coaches, players, everybody associated with our program. I think attitude has a lot to do with our kicking woes."
KU's first-year coach was displeased Beck, who has hit five of 14 field goals and 20 of 24 extra-point tries this season, was noticeably upset with holder Curtis Ansel after missing a pair of field goals and an extra point at Missouri.
"Curtis is one of the finest holders I've been associated with," Mangino said. "He takes ground balls, knuckleballs, sliders and he still has the ball right there. So it doesn't do the kicker any good to look at Curtis after he misses the kick. It's not Curtis' fault. It's not the grass' fault. It's not the turf's fault. We have to accept responsibility. No excuses. Nobody wants to hear excuses. None of us do."
Beck who this week is competing against Ottawa sophomore Jerod Brooks at practice to keep his starting role has heard his coach's message loud and clear.
"What the deal is," Beck said, "is when I miss, I don't display myself the way that I should. I get this attitude. Emotionally I get all mad. I throw my arms in the air. It's the learning experience I am undergoing here. Miss or make, win or lose, you have to convey yourself as a team player, somebody a coach would want to have on your team. He's trying to get my attitude straight, as a team player. He knows I care about this team more than anything. He's getting on me so he can challenge me."
A year ago, Beck made 14 of 20 field goals and 16 of 17 point-afters. The Kansas City Piper High product said his sophomore slump is not from a lack of trying.
"People outside our team might sit there and say, 'He's missed eight straight kicks. What's going on with him?' I go out there to practice every day," Beck said. "It's not like I go out to practice and just jack around.
"I go out to practice and try to make every field goal. I go out there for pregame and I make no mistakes. I am not going to change anything because I am not doing anything wrong in those two aspects."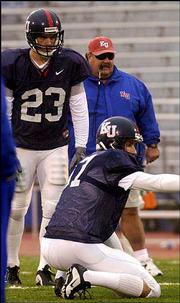 Yet, he's definitely struggling so much so that in the past couple of games, KU has tried to gain a first down on fourth-and-long on various occasions, eschewing field goals between 40 and 50 yards.
"It's a couple mechanical problems," Beck said, noting he has watched film of his misses. "Why does a hitter go into a slump when they hit for a .300 average and they don't get a hit for 20 games? What I am getting out of it is I have to learn from it.
"The position I play, it's really a tough thing. I make a mistake, I miss a field goal and I might not get another chance until the next week or 30 minutes later. A blocker misses a block he can go back the next play."
As far as possible solutions to his problems? Somebody suggested he return to visualizing what it's like to boot the ball through the uprights.
"It's been so long since I made one, it's kind of hard to do that," quipped Beck, who last converted from 22 yards against Bowling Green on Sept. 21.
He never again wants to visualize his 43-yarder against Missouri a line drive into the back of one of his own players.
"I kicked that one I don't even know where it went," Beck said. "It hit somebody. I looked down at the ground, hell there's a big chunk of grass. I looked down and said, 'Wow.' I kind of threw my arms in the air like, 'What the hell just happened?'"
His teammates think he'll be raising his arms in victory again.
"He's obviously a really good kicker. You saw him last year," long snapper Greg Nicks said. "It's all timing between three people (snapper, holder and kicker). When a field goal is missed, I think you need to blame all three. It's all timing and confidence.
"If he gets his confidence back, he'll do the same things this year as last year."
Waiting on Whittemore: Mangino said it was still unclear if junior quarterback Bill Whittemore would be able to play in Saturday's home game against Kansas State. The junior injured his left knee during last Saturday's 36-12 loss at Missouri. Mangino said he hoped to know by Thursday whether the Fort Scott Community College transfer could play, but it might be a game-time decision.
"Bill is getting intense treatment," Mangino said. "He has spent a great deal of time since Sunday with our trainer, Carol Jarosky, who has worked tirelessly trying to get him ready to go. It's definitely a day-to-day thing whether he'll play or not."
Coaches are preparing backups Jonas Weatherbie, who would start in Whittemore's place if needed, and Brian Luke to face the Wildcats.
Players of week: Mangino said running back Clark Green was KU's offensive player of the week after the freshman rushed for 95 yards and caught three passes for 21 yards against Missouri. Mangino was so unsatisfied with his defense and special teams that he did not name a player of the week for either of those units. Scout team players of the week were defensive lineman Tony Strickland and tight end Kevin Borders.
Copyright 2018 The Lawrence Journal-World. All rights reserved. This material may not be published, broadcast, rewritten or redistributed. We strive to uphold our values for every story published.