It wasn't the winning goal, but it was the biggest.
When Free State High senior Kayvon Sarraf knocked in a deflection for the Firebirds' first score during the first half of their first-round Class 6A regional game against Lawrence High, one could see the pressure released from the FSHS bench.
The Firebirds relaxed, continued to dominate and got another goal just before halftime from senior Bryan Spangler in a 3-1 victory Tuesday at the FSHS field.
When the two teams faced off Sept. 26, the Firebirds' offense sputtered in a 1-1 overtime tie. But with Sarraf scoring early, that all changed.
"It was huge," Sarraf said. "It's a completely different game playing with a lead. It helps us play with confidence and do more offensively."
Senior Adam Bittlingmayer added another goal six minutes into the second half off a cross from Sarraf, one of six scoring chances the Firebirds had off crosses.
Despite a wet, somewhat muddy field, Free State's offense was able to string together several possessions that gave them chances to score, which pleased coach Jason Pendleton, whose team had been sluggish on offense lately.
"We showed a sense of urgency and really stepped up," Pendleton said.
The Firebirds improved to 9-6-2 overall, and travel to Manhattan this Thursday to play the Indians in a second-round game. Game time will be announced today.
LHS, which finished the season 2-14-1, played with five new starters and seemed to improve as the game progressed. Pendleton thought that would be the case, which made the early lead that much more important.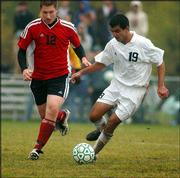 "It's particularly important playing them," he said. "The longer they stick around, they develop confidence."
That happened even with a three-goal lead.
The Lions applied pressure throughout the second half, became more effective on counterattacks and didn't hesitate to shoot on FSHS goalkeeper Justin Howell.
"The second half we had some great chances," LHS coach Keith Nelson said. "Our defense was tougher and we controlled the tempo of the game."
Sophomore Pharouk Hussein scored the Lions' lone goal with 15 minutes left, taking the ball down the right side and beating Howell on a shot to the near post that skidded along the wet grass underneath the FSHS keeper.
Lawrence took advantage of Free State playing a man down after Bittlingmayer was given a second yellow card on what the referee determined to be a unsportsmanlike play. Pendleton disputed the call, saying his senior midfielder played the ball and never had intent to foul.
Making matters worse, the Firebirds will be without Bittlingmayer on Thursday because he'll be forced to miss a game because of the foul. They will start either Brian Ozorkiewicz or Jake Schneider in Bittlingmayer's place.
If Free State is to duplicate last year's march to the state quarterfinals, they'll have to get by the host Indians, the No. 2 seed at 12-3 overall. LHS lost 3-1 to the Indians in the season opener, which would indicate the Firebirds and Pioneers are evenly matched.
"They both are very technically sound teams," Nelson said. "Both are very controlled on offense and have very athletic players. It should be a very good game."
Copyright 2018 The Lawrence Journal-World. All rights reserved. This material may not be published, broadcast, rewritten or redistributed. We strive to uphold our values for every story published.