Flint, Mich. — The man who co-owned the blue Chevrolet Caprice believed to have been used in the Washington-area sniper attacks agreed Sunday to be moved to federal custody in Maryland and is fully cooperating with authorities, his attorney said.
Officials said Nathaniel O. Osbourne, who was arrested Saturday, is not suspected of carrying out any of the attacks. His lawyer, Kenneth R. Sasse, said his client has been interviewed extensively but doubts he has much information.
"I don't think he has any knowledge or involvement in the shootings," Sasse said after Osbourne's detention hearing. He added that he expects U.S. marshals to take Osbourne to Maryland in the next three days.
Osbourne, 26, spoke briefly and quietly as U.S. Magistrate Wallace Capel questioned him about child support payments and other financial matters.
The affidavit for Osbourne's arrest was sealed. He was arrested May 30 in a domestic violence case but has no known outstanding warrants.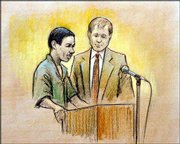 Authorities sought the Jamaican citizen, described as a friend of sniper suspect John Allen Muhammad, as a material witness in the attacks that left 10 people dead and three critically wounded over three weeks in Maryland, Virginia and Washington, D.C.
Osbourne, whose last known address was in Camden, N.J., was believed to have helped Muhammad buy the 1990 Chevy in which Muhammad and teenager John Lee Malvo were arrested Thursday at a rest stop near Frederick, Md.
The car was purchased for $250 from Sure Shot Auto Sales Inc. in Trenton, N.J., on Sept. 10, and Muhammad and Osbourne registered it the next day. Osbourne and Muhammad had listed the same New Jersey address.
Copyright 2018 The Associated Press. All rights reserved. This material may not be published, broadcast, rewritten or redistributed. We strive to uphold our values for every story published.