Catania, Sicily — Mount Etna, Europe's biggest and most active volcano, came to life again Sunday, spewing lava but causing no injuries. A series of small earthquakes damaged buildings on the slopes of the mountain, officials said.
The stream of lava destroyed some ski lift pylons as it headed toward Piano Provenzana, an area which sits at 7,500 feet and is used by tourists as a starting point for mountain walks.
The area was evacuated and sealed by police, said civil defense officials in Catania.
Later Sunday, forests near Piano Provenzana caught fire. Helicopters doused the flames.
Sicily's main eastern airport, Catania's Fontanarossa, was closed down, with many flights rerouted to Palermo, the island's capital city. The airport was scheduled to reopen Monday morning.
After months of silence, Etna's rumbled to life overnight, when as many as 200 small quakes rattled eastern Sicily, some creating panic and sending people to the streets.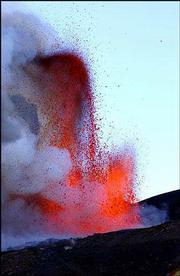 The strongest quake was magnitude-4.2, according to the National Institute of Geophysics and Vulcanology.
The lava flow, which was growing heavier by the hour, was still far from settlements. The mountain also was belching a fountain of ash and sand that made for poor visibility miles away.
Etna towers 10,860 feet above Sicily. The last major eruption was in 1992.
Copyright 2018 The Associated Press. All rights reserved. This material may not be published, broadcast, rewritten or redistributed. We strive to uphold our values for every story published.