Kansas City, Mo. — Kansas City's sad-sack defense turned in an atypical performance, bringing the Chiefs a rare win over the Raiders.
Instead of giving up points in the fourth quarter, the Chiefs helped create them. Instead of getting embarrassed by the NFL's top offense, its lowest-ranked defense allowed only one touchdown and led Kansas City to a 20-10 victory Sunday.
"We shut up our critics, for a while anyway," said defensive tackle Derrick Ransom, who blocked Sebastian Janikowski's 44-yard field goal attempt in the first half. "We're professionals. We have our pride. All that stuff people were saying, you just have to let it go in one ear and out the other."
The defense, which had blown double-digit fourth-quarter leads in bitter losses two weeks in a row, set up the clinching touchdown when linebacker Mike Maslowski forced a fumble by Jerry Rice and recovered the ball with 4:39 left.
"I just came underneath and ripped it," said Maslowski. "We knew they were going to make short catches. We just couldn't let them get away from us."
Less than two minutes later, Trent Green hit Tony Richardson with a 4-yard TD pass, giving the Chiefs (4-4) their first victory over Oakland in six games.
After looking like one of the league's best teams a few weeks ago, the Raiders (4-3) have lost three straight.
"Hats off to the defense," said Richardson. "All year long, people have criticized them."
Before Sunday, those so-called critics had ample evidence to predict a basketball-like score between the AFC West rivals.
The Chiefs had been giving up 441 yards and 32.9 points a game, and although the Raiders were missing starters at running back (Tyrone Wheatley) and in the secondary (cornerbacks Phillip Buchanon and Charles Woodson), they still were averaging almost 33 points a game.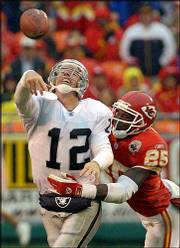 But Oakland's only touchdown came on a 1 yard-pass from Rich Gannon to Doug Jolley in the first quarter.
Nevertheless, Gannon was 35-of-55 for 334 yards and joined Steve Young and Kurt Warner as the only players in NFL history to pass for more than 300 yards in six straight games.
"I thought we had a good plan," Gannon said. "All I can tell you from being out there is that there were too many mistakes offensively. You can't expect to beat a good team on the road when you make the mistakes we did."
Priest Holmes totaled 184 yards running and receiving for the Chiefs, including a 3-yard TD run that made it 13-7 late in the third.
Altogether, Holmes had 91 yards on 23 carries and caught six passes for 93 yards.
"We studied film all week on him," said Oakland safety Rod Woodson. "And we kept saying, 'Find Priest Holmes. Find him. Find him. If he's your guy, hug him.' But for three and a half quarters, we didn't do that. That little guy was all over the place."
Gannon hit Rice over the middle for a first down when Maslowski forced him to fumble.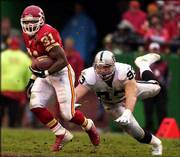 "I put both my arms around the ball," said Rice. "But somehow it popped out."
Tim Brown, who hinted that he was tired of not getting the ball enough, caught 13 passes for 144 yards.
Less than four minutes into the quarter, Janikowski kicked a 32-yard field goal to make it 13-10. He had missed four in a row, counting Ransom's block.
"Our defensive coaches have been criticized, ostracized, blamed and all of those things," said Chiefs coach Dick Vermeil. "Today, they did a pretty darn good job. I'm really pleased for the whole football team."
Morten Andersen kicked field goals of 46 and 22 yards for the Chiefs in the first half. The Raiders scored their TD when an unnecessary-roughness penalty on linebacker Glenn Cadrez gave them a first down.
A 15-yard chop-block penalty on Marc Boerighter wiped out Holmes' short TD run in the first quarter, and the Chiefs settled for Andersen's 46-yarder. Janikowski hit a 32-yarder to make it 13-10 with 11:34 to go. Notes: At halftime, the Chiefs inducted retired OT John Alt into their Ring of Fame and honored the members of the Dallas Texans' 1962 AFL championship team. Curtis McClinton, a member of that team, sang the national anthem. ... Raiders DT Sam Adams, who continues to struggle with chronic knee problems, was a game-day scratch. He will undergo an MRI on Monday. ... Ransom had Kansas City's first blocked field goal since Tom Barndt blocked one against Pittsburgh on Dec. 18, 1999. ...Buchanon's roster spot was taken by CB Brandon Jennings.
Copyright 2018 The Associated Press. All rights reserved. This material may not be published, broadcast, rewritten or redistributed. We strive to uphold our values for every story published.