Topeka — Visitors no longer will have any difficulties seeing "Ad Astra" atop the Statehouse.
The statue of a Kansa Indian shooting an arrow at the North Star took its place on the dome's cupola on Oct. 10. However, scaffolding remained, partially obstructing the view.
As of Friday, the scaffolding was gone, and workers had taken apart the giant crane that hoisted "Ad Astra" to its lofty perch.
The only task that remains is to adjust floodlights on the roof of each Statehouse wing. Workers will do that Tuesday, said Ben Bauman, spokesman for the Department of Administration.
"I think it'll just be little fine tuning," Bauman said. "To the untrained eye, like mine, it looks pretty good."
The statue, by Salina sculptor Dick Bergen, is more than 22 feet tall and weighs about 4,100 pounds. Its name comes from the state motto, "Ad Astra Per Aspera," "To the Stars Through Difficulties."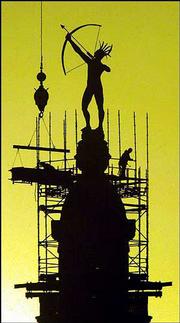 Workers first raised the statue on Oct. 7, as hundreds of people watched from the Statehouse grounds and outside nearby office buildings. However, it came down only a few hours later.
The statue has a stainless-steel plate on its base; the cupola has a similar plate on its top. Seventeen bolts run through holes in both to keep the statue in place.
On Oct. 7, workers discovered that nuts on five of the bolts wouldn't tighten enough and the holes in the two plates were slightly misaligned. The problem took two days to correct.
The project's cost eventually reached $1.6 million, including modifying on the dome, casting the statue and building a new plaza on the south Capitol grounds.
Copyright 2018 The Associated Press. All rights reserved. This material may not be published, broadcast, rewritten or redistributed. We strive to uphold our values for every story published.