A shell casing found in a white box truck seized by investigators in Virginia is of a larger caliber than the ammunition used in 12 attacks by the Washington-area sniper, law enforcement sources said Saturday, meaning the shell could not fit in the type of weapon authorities say the sniper has been firing.
The casing, found by a truck rental company Friday, was for a 7.62 mm bullet, which is the equivalent of about .30 caliber, the sources said. In 11 shooting incidents attributed to the sniper, in which nine people have been slain and two wounded since Oct. 2, authorities have said .223-caliber bullets have been used. Those are significantly smaller than .30 caliber.
Each bullet size is used in a range of firearms. But .30- and .223-caliber bullets require different sized chambers and barrels and cannot be fired from the same weapon.
A cleaning crew working for a truck rental agency near Dulles International Airport found the shell casing inside a white box truck after it was returned. The company notified police Friday afternoon, and authorities confiscated the casing and the truck. The casing was taken to the federal Bureau of Alcohol, Tobacco and Firearms laboratory in Rockville, Md., for testing.
Police in the sniper case have been searching for a white box truck since witnesses reported seeing one near some of the shooting scenes Oct. 3 in Montgomery County, Md., where four people were slain in just over two hours.
Montgomery County Police Chief Charles Moose said at a noon news conference that forensic tests on the truck and shell casing are continuing and that results would not be released before Monday. Asked specifically Saturday night about the 7.62 mm casing, Montgomery police spokesman Derek Baliles would not confirm what size shell had been found in the truck.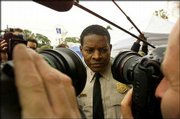 "We're not making any other press announcements until the final tests are done," probably Monday, Baliles said.
He added: "We don't mean to convey any optimism or pessimism. We're just trying to be patient while these tests are performed."
Copyright 2018 The Lawrence Journal-World. All rights reserved. This material may not be published, broadcast, rewritten or redistributed. We strive to uphold our values for every story published.