Overland Park — Ask a spectator about Saturday morning's weather at the Sunflower League cross country meet, and you'd probably get a teeth-chattering response.
But ask Lawrence High senior Dylan McClain, and he'll say it couldn't have been better.
"The weather was pretty much ideal," he said, comfy in a couple of t-shirts and a pair of shorts. "A lot of people think sunny and 70s is ideal, but sunny and 50s is what you want."
Better listen to the guy.
McClain and LHS senior Andy Struble cooked in the cool weather at Johnson County Community College, finishing 1-2 and leading the Lions boys' squad to their second straight league title, beating defending state champ Shawnee Mission Northwest by 12 points.
Free State High, led by all-league performances from seniors Adrian Ludwig (fifth) and Hiral Bhakta (11), finished fourth.
If McClain was comfy, Free State freshman Alysha Valencia was downright cold.
Valencia was second overall in leading the Firebird girls to a second-place showing, but was shivering once she completed the two-mile course in 12:02. A couple of coughs accompanied the chill, but her performance didn't seem to be affected.
"I didn't do that bad for how crappy I'm feeling," she said. "I was thinking about bringing a heater and putting it in my uniform, but I didn't think that would be too comfortable."
Lawrence junior Meg Gentry was tenth 40 seconds behind Valencia pacing the Lions to a third-place finish even without freshman Megan Johnson, one of their top runners. She suffered a partial tear in a hip ligament this week, and could be out for the season.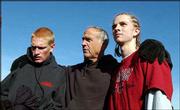 LHS coach Dick Reamon, always loathe to sugarcoat his team's performance, couldn't have been happier with the outcome in Johnson's absence.
"That's a big hurt," he said. "We aren't good enough to make up for that right away. Getting ahead of Olathe East and Shawnee Mission East was very significant. I'm not going to look back in any way and think about what might have happened.
"I'm elated with third place."
The Lions also got all-league performances from senior Lauren Davis (16) and sophomore Jenni Beasley (19).
FSHS followed Valencia with three other all-league runners in senior Mallory Richardson (12), sophomore Robyn Lee (15) and senior Maggie Brooke (18), but it wasn't enough to offset champion Shawnee Mission Northwest's five runners in the top 20.
That doesn't worry FSHS coach Steve Heffernan. He knows his team, ranked sixth in the 6A Kansas coaches ranking, one behind LHS, has the stud and the depth to be in the hunt at state.
"Right now we're just trying to string together five good races," Heffernan said. "If we can do that, anything can happen in state in two weeks."
If the Firebirds are looking to surprise, the LHS boys are looking to lead. Ranked No. 1 all season, the Lions have been in the hunt for a state title the last few years. With McClain, Struble and senior John Zehr (seventh Saturday), the Lions have the cream at the top, and some good depth.
Sophomore Drew Vogel (26) and junior Harry Swartz (27) have been steadily improving this season, which makes Reamon breathe a little easier. He said he doesn't want to put any added pressure on his team, which, along with Free State, travels to Manhattan next Saturday for regionals.
He just wants them to run like he thinks they can.
"We came in and did what we expected to do," Reamon said. "We've got to do it with our depth and our talent at the top. We've got excellent, experienced runners. They're what we want in our program."
Copyright 2018 The Lawrence Journal-World. All rights reserved. This material may not be published, broadcast, rewritten or redistributed. We strive to uphold our values for every story published.