Baldwin — Cars crept slowly into town Saturday morning, backed up four miles. Parking space was at a premium, sidewalks were jumbled with strollers and lawn chairs, and food stands like squatters had claimed yards throughout town.
Every year on the third weekend of October, the population of this quiet community explodes as thousands converge on the town to celebrate autumn during the annual Maple Leaf Festival.
Now in its 45th year, the festival started as a quiet, neighborhood celebration of fall and the colorful hues it brings to northeast Kansas. Today, the festival's premise is the same, but its numbers are quite different.
Law enforcement officials estimated that 20,000 attended last year's festival, suggesting that even as attendance at other small-town festivals has dwindled, Baldwin's remains stronger than ever. The key to success, said revelers and planners alike, was appeasing that penchant for traditional and affordable good times.
"It's a fun deal," said Ken Goll who has been coming to the festival since about the time it began. "Nothing expensive and you can just kind of enjoy the day."
Goll and his wife, Mary, both of Lawrence, used to bring their grandchildren to the festival. Now those grandchildren are in their 30s, but they often come back for the festival, bringing the next generation along with them.
The event has grown, the Golls said, and in the process has maybe lost a bit of its hometown feel. But as the couple headed down the street to catch a glimpse of the parade, they agreed the event was still worth coming to Baldwin for year after year.
"The eatin's good," Ken Goll said. "I don't think you could find a thing I don't like, entertainment-wise."
Dozens of activities are planned for the weekend, ranging from a square dance to haunted train rides. It's this variety that attracts the crowds, said Independence, Kan., quilter Connie Sherlock.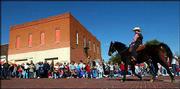 "There's something for the kids and there's something for the little old ladies, too," she said, adding that the festival's craft show is one of the best in the area.
When the festival started, Baldwin residents set up in their yards a few card tables filled with crafts, and publicity chairwoman Star Novak said she had read where organizers were excited to get just 200 people at a chicken dinner.
But these days it's a major fund-raiser for the city, encouraging all sectors of the community to work together to keep it going strong.
About 200 booths were set up throughout town Saturday, and vendors were charged up to $180 to display their wares. Although exact totals were not available, the festival annually makes several thousand dollars to contribute to scholarships and community organizations.
And local businesses and organizations that don't directly receive donations from the festival committee also have incentive to keep the festival strong, said committee member Stacy Cohen.
"This is their fund-raiser for the year," she said. "This is their Christmas ... If they don't do well at Maple Leaf, they're hurting for the rest of the year."
But at the end of the day, said Novak, it's little but tradition that keeps the families pouring into town.
"It's just a good, wholesome, family fun day," she said, pointing out that attendance remained steady even after Sept. 11. "I think it helps families to get back to a simpler time."
Copyright 2018 The Lawrence Journal-World. All rights reserved. This material may not be published, broadcast, rewritten or redistributed. We strive to uphold our values for every story published.